Enjoying a fine brass band performance by an all-female band in a church, you'd hardly think you were in a rural part of Nam Định Province.
More than 40 women, all in white uniforms, are rehearsing for an upcoming event for Christmas. They are not professional musicians. Most of them are farmers, while others sell fruit at the local market.
Hải Bắc Brass Band has been hitting the right notes for more than nine years. Initially, it was just a group of 20 villagers playing wind instruments for services at the local church. The group now has more than 40 members who perform at a wide range of events - Christmas and New Year, weddings, cultural festivals and funerals.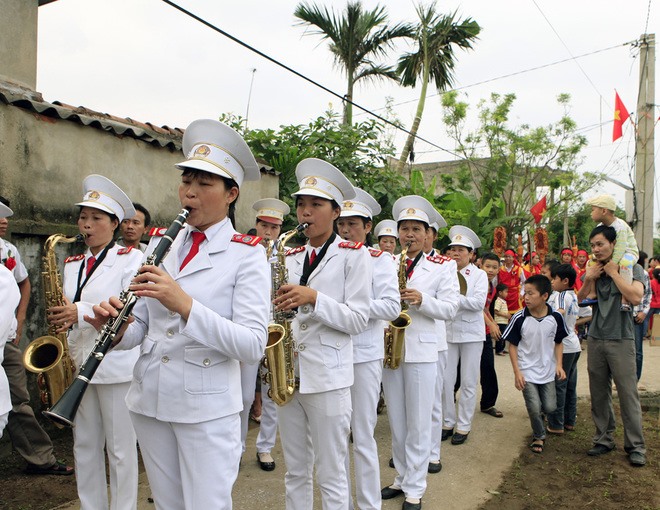 The all-female brass band of Hải Bắc Commune in Nam Định Province has performed in a wide range of events since 2010. Photo tintucnamdinh.vn
"We all love music and the sound of wind instruments. It makes us feel younger and happy. The more I play, the more I want to learn," said Trần Thị Tuyết. 
"The reason our band is all female is that we want to make it simple and unique. Unique because there are not many all-female bands here. And simple because it's easier when we have to stay overnight for a show," said Tuyết. 
While most rural villages in Việt Nam at night are characterised by the sound of crickets and the sight of villagers visiting communal houses for social gatherings, villagers in Hải Hậu District spend the night at the church, watching the local 'artists' rehearsing. 
"The wind instruments can be used for different types of music whether it is sad or joyful," she said.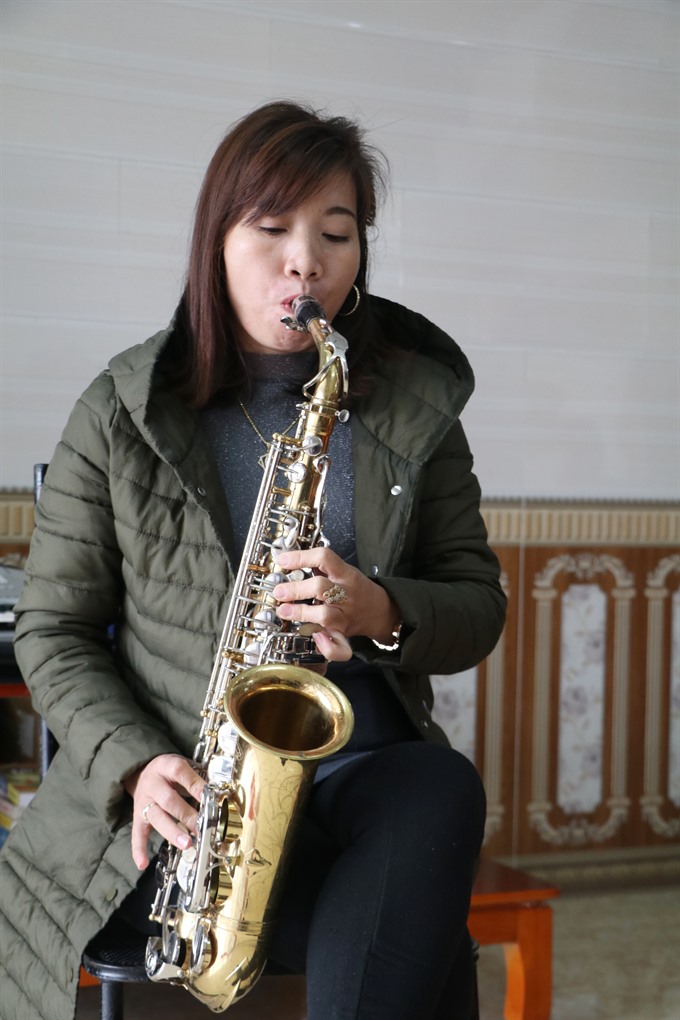 Trần Thị Tuyết has been playing the saxophone for six years. "We all love music and the sound of the saxophone," she said. VNS Photo Hồng Vân.
When they play at the cathedral, they perform songs about Christianity and god; when it's for a festival, they play joyful songs; and for conferences or formal events, patriotic songs are performed. 
"If I hear a new song and like it, I learn how to play it," said Tuyết.
"There are some upbeat songs and we all enjoy the melodies," she added.
Band members are aged from 26 to 45. A volunteer teacher helps them with technical things like writing music and training new members.
Besides performing in Nam Định, the band has also been invited to perform in Hà Nội, Thái Bình, and the central cities of Thanh Hóa and Đà Nẵng. 
The band has an average of six performances per month. The year end is the high season with events going on for Christmas, New Year and weddings.
When they first started, they had to spend three to four days practising before a performance. Now they just need to rehearse once. 
"Our only disadvantage is that as mothers and wives, we are very busy with family stuff, children, cooking and chores. We also need time to rehearse, so we need to be committed and manage our time well," said Tuyết.
"The most important thing is for members to attend rehearsals so our performances go well. 
In 2010, when the band was first established, there were only 20 members and wind instruments were very expensive, ranging from VNĐ4 to 10 million (US$170-430) each.
Nowadays, the band can make money from performances. Each performance can run from a few hours to several days, with fees ranging from VNĐ3 to 60 million ($120-2,500). Part of the proceeds go to a fund to maintain the band and repair the instruments.
"I am happy that our band has been performing for the last nine years. At first we thought it would be difficult because none of us had any musical experience, but we managed to do it. We have also received very positive feedback from our audience and won awards.
"Our brass band will go on. Some may leave the band but we always welcome new members," said Tuyết. 
Their achievements are also attributed to support from their families. 
Her husband Đồng Ngọc Điều, a secondary school teacher, said: "Everyone has their own passion. My wife loves music and instruments and I consider it a very good thing to pursue something you love in life."
Over the past few years, he has supported her wife's job by carrying instruments and taking her to and from the church and events at all times of day.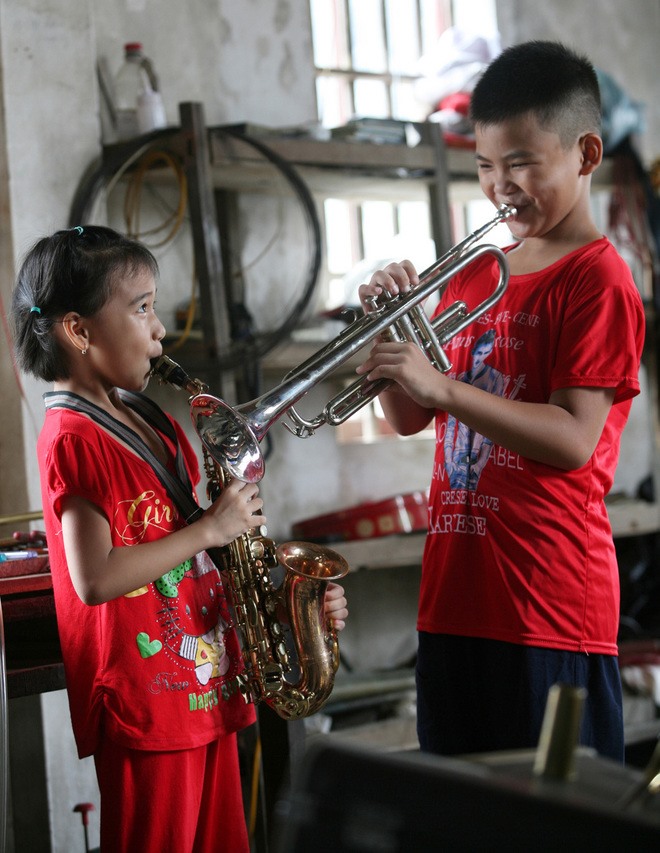 Brass bands have become a part of local life. Nam Định is among the first places in Việt Nam where Christianity was introduced. Photo tintucnamdinh.vn. 
Just down the road there is another band in Mỹ Lộc Commune with 35 members which has been going since 1985.
One of the band members, Trần Công Năm, said: "I still remember one of our very special performances. It was 21 years ago, we were asked to play at a funeral. We woke up at 4am in the cold winter and cycled 10km to get to the place."
"Nowadays, everything is easier. Playing in the band brings us closer together and helps us be more sympathetic and compassionate. Rehearsals are a time for us to learn about each other," Năm added.
Brass bands have become an important part of the community. After a hard day at work, locals gather at the church to watch the band rehearse or perform.
Hải Hậu District has one of the largest populations of Catholics in Việt Nam. About 40 per cent of the population is Catholic, with 37 parishes.
In 1936, the first brass bands were officially established at churches in Hải Hậu to perform for church music, according to Trần Quang Nhuệ, deputy head of Hải Hậu District's Department of Culture and Information.
"In the early days, brass bands only used popular instruments like the trumpet and saxophone which were imported from western countries, mostly France. Only wealthy men played brass instruments at the time," Nhuệ told Việt Nam News.
Nowadays, musicians are more diverse – kids, senior citizens, men and women. Most don't have professional training, but they can play, make and repair various types of instruments including the saxophone, trumpet, trombone, French horn, tuba and clarinet.
"Brass instruments have been enthusiastically received and developed by local Catholics. Nowadays, brass instruments are a must at church services and important social events," Nhuệ said.
There are currently 95 brass bands in Hải Hậu District with more than 4,000 members./.