3/11/2018 9:47:16 AM
Vietnamese winner of US MasterChef: With great character comes great reward
(VNF) – US MasterChef 2012, Christine Ha, distinguished herself from other contestants, not only by the food she chose to cook (Vietnamese comfort food), but also by the way she cooked.
Overcome disadvantage to become distinguished
Christine Ha is the first-ever blind contestant and 3rd season winner of the competitive amateur cooking television show, "MasterChef" U.S., on FOX with Gordon Ramsay, after defeating over 30,000 home cooks across America.
"The lady has an extraordinary palate, a palate of incredible finesse. She picks up hot ingredients, touches them, and she thinks about this image on the plate. She has the most disciplined execution on a plate that we've ever seen. But the palate is where it's just extraordinary. And honestly, I know chefs with Michelin stars that don't have palates like hers." –Chef Gordon Ramsay, MasterChef judge.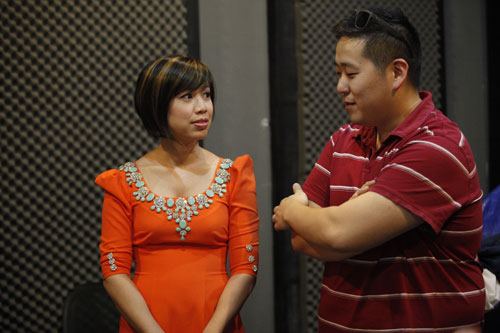 Christine Ha (L) and her husband in a recent visit to Vietnam (source: dep.com.vn)
Christine, 39, has been diagnosed with neuromyelitis optica (NMO), a condition of the central nervous system that affects the optic nerves and spinal cord.
"The very first bout I had was in 1999," she says of the condition. "It only happened in one eye then. It didn't recover completely so I learned to adjust to seeing out of one eye. In 2004, it decreased to the level where I could no longer drive. In 2007, it decreased to where I am now. I have to use a cane to walk around or take somebody's arm and be guided."
"It's hard to see ingredients," she says. "I have to figure out by smell and touch if an ingredient is fresh. Cutting with knives – fortunately, I'm pretty careful and I have a proper knife technique. Since I've lost my vision, I've cut myself once. And it was minor. I've never had to get stitches. It's really about being organized, careful and using my other senses."
So how does she work a kitchen without the benefit of sight?
"It takes a lot of organization. It helps to know where everything is and how the kitchen is laid out," she said, adding that tools such as talking scales and talking thermometers assist the vision impaired.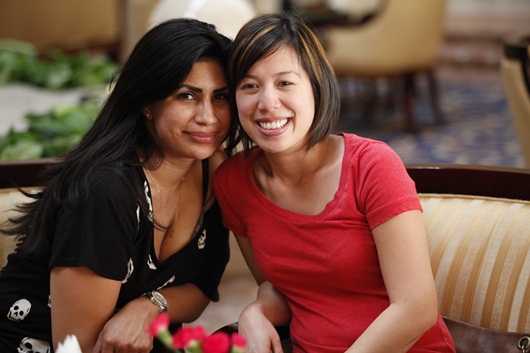 Positivity is the biggest impression Christine Ha leaves on everyone who comes across her (source: dep.com.vn)
She also relies on her other senses to direct her: the sound of water sizzling in a pan to know if it's hot enough for meat; the fragrant smell of garlic cooking to catch it before it turns bitter.
Can she cook completely unassisted? "Yes, I can. Maybe it will take me a little longer than a sighted person, but yes, I can."
It's that can-do spirit that might prove beneficial to Ha as she tries to prove herself to Ramsay and his fellow judges.
 "I have to depend a lot more on the other senses to cook – taste, smell, how certain ingredients feel," she told PEOPLE magazine in an interview as contestant of MasterChef 2013. "I'll know if a piece of meat is close to being done by how it feels against my hand or utensils."
And she did not get any special help from the judges Gordon Ramsay, Graham Elliot and Joe Bastianich. "Joe, Gordon and Graham didn't treat me any differently," she says. "They told me what was wrong and right with my dish. There was constructive criticism. I feel like they judged fairly."
Still, nerves were a factor for Christine when she began the competition. "I had never been this nervous in my life – even on my wedding day," she says. "It was the most anxiety I've felt in a day. It's already scary to be in an environment you can't soak up visually what's happening around you. It was challenging and scary."
"I'm always one to take on challenges. I like to push myself to see how far I can get in life. It's just my personality," said Ha.
Inspired by mom's homecooked food 
For her audition she prepared braised catfish in a clay pot, a favorite dish from the Vietnamese cuisine she grew up eating.
"My mother is my culinary inspiration. I was an only child and she was a very good cook. When you grow up like that you take it for granted. You think everyone eats like that."
Ha said she regrets that she didn't learn recipes from her mother, who passed away when Ha was 14. Her father, an electrical designer, retired and moved back to Vietnam around the time Ha was auditioning for the show.
Still, Ha said she had long been interested in cooking. She considered culinary school but instead opted for an undergraduate degree in finance and management information systems from the University of Texas at Austin.
That didn't stop her from learning to be a good cook, though. She enjoys cooking for her husband and friends, and says her repertoire of dishes is "comfort food" - "I like the things that are down home and people grew up eating."
Spreading the light
Before championing the MasterChef, Christine was pursuing a Master of Fine Arts from University of Houston's nationally acclaimed Creative Writing Program. During her time there, she served as Fiction Editor for the literary journal Gulf Coast. She is currently working on her memoir and second cookbook.
The championship has changed Christine's life, as well as inspired millions people in the world, especially those with disabilities.
Christine's first cookbook, Recipes From My Home Kitchen: Asian and American Comfort Food (Rodale, 2013), was a New York Times best-seller. She has been featured on NPR, the BBC, and CNN International, and travels around the globe to give keynote addresses and TEDx talks.
Christine has also served as a culinary envoy on behalf of the American Embassy in cultural diplomacy programs in Jordan, Serbia, Bosnia/Herzegovina, and Croatia. She was a co-host on the Canadian cooking show, Four Senses on AMI, and a judge on "MasterChef" Vietnam on VTV3.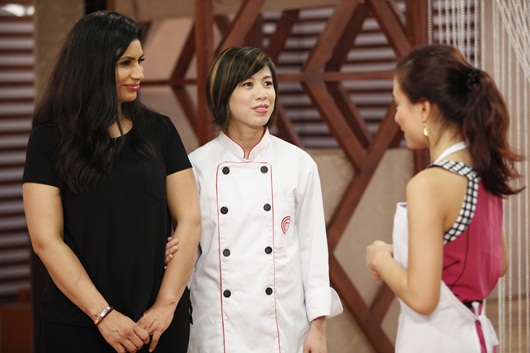 Christine Ha as one of the judge in MasterChef Vietnam 2014 (source: dep.com.vn)
Christine received the 2014 Helen Keller Personal Achievement Award from the American Foundation for the Blind, a recognition formerly bestowed upon Ray Charles, Patty Duke, and Stevie Wonder among others.
"Ha has been a very positive presence on reality television, which does not always present persons in the best light," said the American Foundation for the Blind.
Christine also runs her own Youtube channel, Instagram, website and blog, where she keeps her friends and fans updated on what she has been up to.
Especially, Christine inspires people with vision impairment to move forward, by sharing how a blind can make daily routine like selecting clothes, putting on makeup easier as well as how he/she can make use of social platform.
"It is never easy to lose your vision. It will suck, and you will go through a period of grief and adjustment. It is stressful. And it is okay to cry and lament about it. This is all very normal and healthy. But after a while, you have to pick yourself up, learn to adapt, and move on and forward. Everyone in this world is dealt a different hand—some better, some worse than others—but what's more important is how you play that hand. This is what builds character. And with great character comes great reward," she said.
( VNF )