11/15/2018 8:45:51 AM
Vietnamese students in US increase for 17th straight year
According to the US Embassy in Vietnam, the number of Vietnamese students in the United States has increased consistently for 17 straight years.
The number was cited from the Institute of International Education's (IIE) annual "Open Doors" Report.
Open Doors report, annually released during the International Education Week (IEW) is a joint initiative of the U.S. Department of State and the U.S. Department of Education.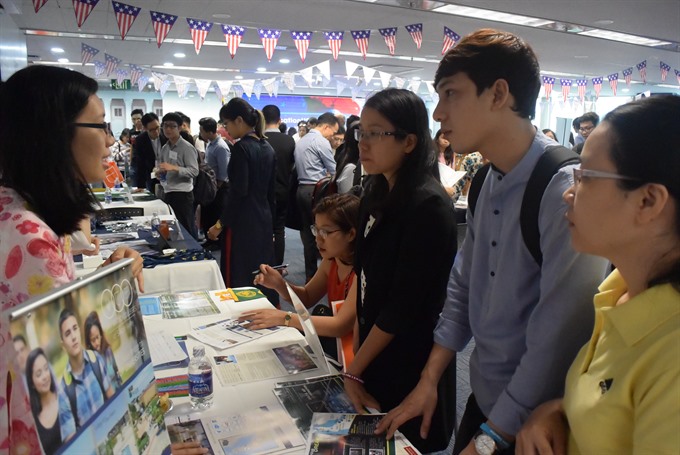 Students ask about information about studying in the US. — Photo courtesy of the US Consulate in HCM City
According to the report, for the 2017-2018 academic year (AY), Vietnam remains the sixth leading country of origin for all international students in the United States, with 24,325 students, up 1,887 students since last AY 2016-17, an 8.4 percent increase. The data shows that 1,094,792 international students came to the United States in the 2017-2018 AY, a 1.5 percent increase over last year. International students now make up 5.5 percent of all higher education students in the United States, up slightly from 5.3 percent last year. Vietnamese students contribute $881,000,000 to the U.S. economy. 
Of the 24,325 Vietnamese students in the United States, 69.6 percent were undergraduates, 15.2 percent were graduate level students, 8.6 percent enrolled in Optional Practical Training (OPT), and the remaining 6.6 percent were pursuing non-degree programs. 
Vice versa, the data also revealed that Vietnam is becoming a more popular destination for American students. In AY 2016-17, Vietnam welcomed 1,147 students from the United States, an increase of 13.3 percent./.
( VNF )