9/29/2018 9:53:13 PM
Vietnamese martial arts: Beyond the physical
Martial arts have very much been the focus of Augustus Roe's time in Vietnam.
Some of the best moments living in Vietnam for Augustus Roe, a teacher from UK, were the times he spent travelling around the country to meet and train with different martial arts masters and students, as part of his research for writing a book about Vietnamese martial arts.
After two years, 'The Martial Arts of Vietnam - An Overview of the History and Styles', the first English-language book to look in detail at the systems, styles and histories of Vietnamese martial arts and their related practices, was published.
The book features images taken on location, maps and timelines detailing important historical events and points of interest, a listing of martial arts schools and styles, and a glossary of important Vietnamese terms for readers to refer to.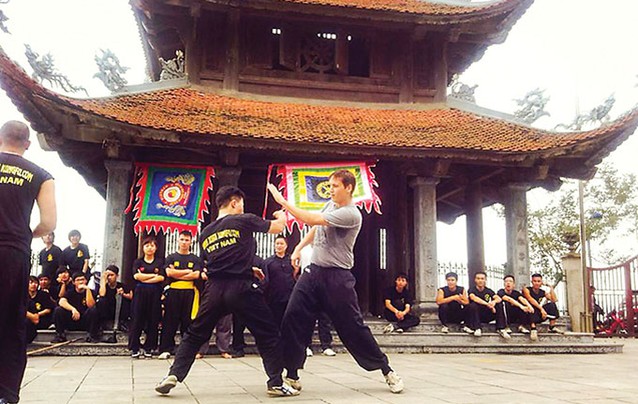 Photo: Augustus Roe
With a deep passion for Vietnamese traditional martial arts, Augustus also offers classes for both Vietnamese and foreigners living in Vietnam. He spoke with The Guide about his experience.
How did you get into Vietnamese martial arts?
I've studied many martial arts. When I was young I learned Judo and Tae Kwon Do, then when I was at university I studied some Chinese styles of Kung Fu such as Wing Chun and White Crane. I've also spent time in Japan and South Korea, where I had the opportunity to train and exchange with some really great martial artists.
When I came to live in Vietnam, a friend of mine was studying Thai Cuc Quyen (Tai Chi) and knew I was interested in martial arts, so he introduced me to his teacher. Then I began to study too and through martial arts learned a lot about the culture, history and language. This really inspired me to learn more about Vietnamese martial arts.
What kind of Vietnamese martial arts have you studied?
I have tried my hand at various styles over the years, such as Vovinam, Binh Dinh region martial arts, traditional wrestling, Nhat Nam style, Nam Hong Son style, Seven Mountains region martial arts, and others.
They all have interesting and unique aspects but my favourite style has to be the one I learned from my master, a Buddhist martial art from the Seven Mountains region in An Giang province, called Buu Son Phat Mon Qyyen (Dharma Mountain Martial Arts).
What makes it your favourite?
A number of reasons.
Firstly, the master I studied under is very skilled, as he speaks Vietnamese and English fluently so he can explain the details of the techniques and the historical and cultural aspects very clearly.
Secondly, the style is very dynamic. We practice a whole range of areas from meditation and Qigong to grappling, forms and sparring, which means there is always a lot to work on.
Finally, the Buddhist side of the style is great because it encourages a peaceful nature, emphasising being a good person over fighting skills, something which I feel is missing from a lot of modern styles like MMA and kickboxing.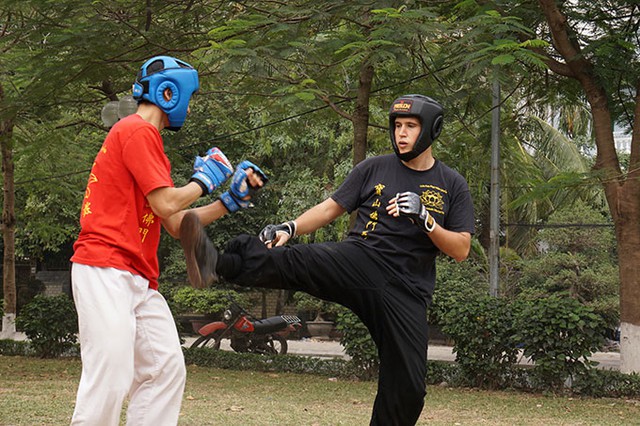 Beyond the physical
Any other differences in Vietnamese martial arts compared to those of other countries?
Unlike other martial arts, Vietnamese styles are generally not well known worldwide, but they are unique for a number of reasons.
Firstly, the environment has played a big role in their development, due to aspects like the mountainous terrain and thick forests. Movements often appear less-linear than in other styles of Chinese or Japanese martial arts, for example.
Secondly, the physicality of the practitioners has been an important factor, Vietnamese styles are often very dynamic, with a lot of high-jumps and low stances. In fact, Vovinam is famous for its use of flying-scissor kicks, which require the practitioner be very acrobatic.
Finally, the cultural and historical aspects of Vietnamese martial arts are really interesting, as there are many practices related to different Vietnamese customs and traditions. For example, in my style we utilise rotating techniques, which are often practiced by carrying a Vietnamese shoulder pole, and moves that are named after aspects of the environment, such as 'mountain stance' and 'the tiger-hunting stance'.
Is that one of the reasons that inspired you to write the book?
Partly, yes. The main reason was since I first arrived in Vietnam I wanted to learn about the different styles of martial arts and in doing so I realised that there was very little information about them available (and virtually nothing in English). So, I wanted to write it with the hope that the book will make Vietnamese martial arts more accessible to a Western audience and that some of the readers may be inspired to travel to Vietnam, meet the people and try the martial arts that I have found so fulfilling.
Any difficulties in writing the book?
The main difficulty I faced was during the initial research phase, as there was so little information available in English. Often I would have just the name of a village or person, then I would go there and ask around until someone could point me in the right direction. But there were good memories too.
How did you start to teach and is there any difference between teaching Vietnamese and foreign students?
I first began to teach when my master, who is a Vietnamese-American, moved back to the US and gave me permission to take over teaching his classes in Hanoi.
At first, some Vietnamese students were apprehensive about learning a Vietnamese martial art from a foreigner, but most were very open-minded and didn't have an issue. I also found that Vietnamese students are very respectful when learning martial arts, which is something that we encourage in the West, but in Vietnam it is much more culturally ingrained, and I feel it makes teaching Vietnamese students very rewarding.
I find that foreigners studying Vietnamese martial arts in Vietnam are often quite surprised when they begin, because the level of training is much more intense than at a lot martial arts academies in the West. Foreign practitioners also have difficulties with some moves, because there while they have a weight advantage many of them don't have the speed and flexibility of a smaller body-type.
What is your advice for dealing with those difficulties, particularly for beginners?
Some of the key components of our style are flexibility and dynamic movements. Like many Westerners, I am taller and heavier than most Vietnamese martial arts students. Sometimes this is an advantage, as for example, my range is often greater. But with other areas such as jumping techniques and flexibility, I have to work really hard to match what some of my Vietnamese counterparts can do with ease.
My advice is there is only one way to improve quickly: work hard. Most beginners think 'I'm not fit enough' or 'I'm not strong enough to do martial arts'. This is really a mistake. Martial arts training is not just about fighting; it includes all of the practices you need to get fit and get tough (mentally and physically). The biggest piece of advice I can offer is: 'Go for it! Join a class today', you have nothing to lose and everything to gain./.
( VNF/ The Guide VN )