2/8/2018 4:44:32 PM
Vietnam, Netherlands' 45-year ties: Dynamic model of South East Asia - Europe cooperation
(VNF) - Diplomatic ties between the Netherlands and Vietnam were officially established 45 years ago, in 1973. Since then, The Netherlands contributed to Vietnam's post-war reconstruction and eventually to its transition into the lower middle-income country it is today.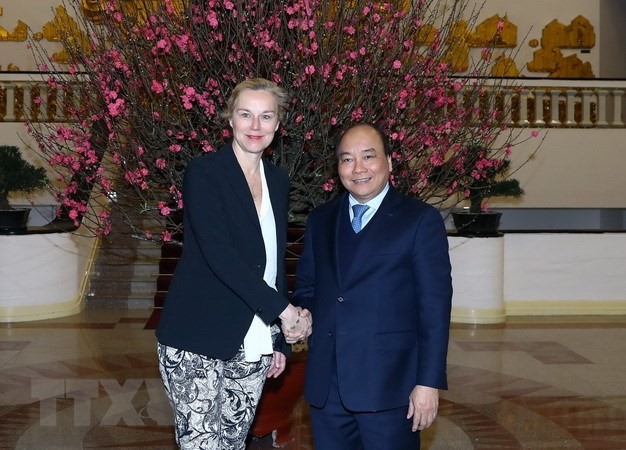 PM Nguyen Xuan Phuc receives Dutch Minister of Foreign Trade and Development Cooperation, Sigrid Kaag, in Hanoi yesterday (source: VNA) 
Five decades of Dutch development efforts in Vietnam were directed at a variety of issues, such as water management, women economic empowerment, sanitation, health care, labor conditions in the garment sector, and nature preservation.
Impressive cooperations in 45 years
After establishing diplomatic ties with Vietnam in 1973, the Netherlands began providing non-refundable official development assistance (ODA) to Vietnam, mainly in humanitarian activities, education-training, and healthcare.
Bilateral cooperation in education and training, security and defence, transport, and maritime activities, have also seen dynamic progresses. Since 2002, the Netherlands has put Vietnam on the list of countries receiving special status in tertiary education training co-operation. The European country has also provided scholarships for Vietnamese students every year.
Despite the geographical distance, Vietnam and Netherlands share a lot in common. Both are coastal states in strategic locations, and as delta countries, the two both face the challenges of climate change, especially in the area of agriculture and water management.
Vietnam and the Netherlands are both world-class players in the export of agricultural products. While being a small country with a surface area of just one seventh of Vietnam, and one fifth of Vietnam's population, the Netherlands is the world's second biggest exporter of agricultural products.
Dutch Minister of Foreign Trade and Development Cooperation, Sigrid Kaag (R) and Dutch Ambassador to Vietnam Nienke Trooster (source: Thanhnien)
Vietnam-Netherlands relations have set a model for the dynamic and effective cooperation between a Southeast Asian country and a European nation. The two sides have defined climate change adaptation, water management, agriculture, energy, sea-based economy, and logistics services, as prioritised cooperative fields.
In October 2010, the two countries established a strategic partnership on climate change adaptation and water management. Later in June 2014, they also signed a strategic partnership agreement on sustainable agriculture and food security.
The two sides have also positively cooperated at regional and international organisations and forums, particularly under the framework of the United Nations, the Asia-Europe Meeting (ASEM), and the Association of South East Asian Nations (ASEAN)–European Union (EU).
Inauguration ceremony of Dom Dom school sponsored by Dutch Lady Dairy company in Vietnam (source: DTNews)
The Netherlands has shown a positive stance on such issues as food security, peace and development in the region, calling on the relevant parties to remain calm and resolve all disputes by peaceful and cooperative measures, in accordance with international laws, especially the 1982 UN Convention on the Law of the Sea (1982 UNCLOS). The Netherlands has also highly values Vietnam's role in addressing the East Sea issue and the country's contributions to peace and security in the region.
The bilateral trade has continuously increased in recent years with Vietnam recording a trade surplus. Since 2002, Vietnam's exports to the Netherlands have enjoyed an annual increase of 15% and the Netherlands is now one of the biggest export markets of Vietnam in Europe.
In 2016, two-way trade reached US$ 6.68 billion, making the Netherlands the second largest trade partner of Vietnam in the Europe, behind only Germany. In the first five months of 2017, two-way trade hit US$2.9 billion.
In a recent reception for the Dutch Minister of Foreign Trade and Development Cooperation, Sigrid Kaag, Prime Minister (PM) Nguyen Xuan Phuc praised the Netherlands as one of Asia's leading trade partners, noting that Dutch businesses have invested nearly US$8 billion in Vietnam. 
2018, look forward to a new chapter of cooperation
The ongoing visit made by Minister Kaag and representatives of major Dutch businesses has opened tremendous opportunities for bilateral ties, including, not only traditional spheres like climate change and high-tech agriculture but also in seaport management, technological development and start-ups. 
At the meeting with Minister Kaag, PM Nguyen Xuan Phuc requested for further implementation in strategic partnership through specific activities such as updating the Mekong Delta Action Plan by building a concrete planning scheme for the region; rolling out orientations for regional livelihood restructuring and building regional connectivity; stepping up cooperation between HCM.City and Hanoi and Rotterdam, as well as collaboration in personnel training in the environmental sector. 
Minister of Foreign Trade and Development Cooperation of the Netherlands, for her part, affirmed the country's willingness to collaborate with Vietnam in agriculture, seaport development and logistics. The collaboration will help Vietnam generate jobs, spur the country's economic growth and improve the living conditions of local people, she said. 
According to Dutch Ambassador to Vietnam, Nienke Trooster, Vietnam's development speed is amazing, which promises to offer more potential for trade and investment between two countries.
At the same time, "tourism flows, cooperation between social organizations and knowledge institutions, and student exchanges will inevitably promote positive ties between both our countries. I am confident that these 45 years are just the beginning of a future of long-lasting and positive ties, not just between our countries, but between our people as well," she stressed.
She also noted that, while bilateral trade and investment ties have been growing rapidly, there is a need for more attentions to people-to-people relations.
In 2018, the people-to-people ties will be strengthened, with a lot of activities to celebrate the friendship between two countries in the last 45 years, such as the Dutch national day, King's Day, the World Press Photo Exhibition held by the Dutch Embassy in Hanoi./.
( VNF )