7/14/2017 1:46:43 PM
Vietnam, Myanmar increase security cooperation
Minister of Public Security To Lam asked for stronger collaboration between Vietnam and Myanmar in fighting crime via bilateral and multilateral mechanisms during a reception for Myanmar Deputy Minister of Home Affairs Aung Soe in Hanoi on July 12.
Aung Soe is in Vietnam to attend the fifth Vietnam-Myanmar security dialogue at deputy ministerial level.
Lam said the deputy ministerial-level security dialogue mechanism facilitates practical and intensive cooperation of the two countries in the fields of public security, police and personnel training, especially when trans-national crime in the region shows complicated development.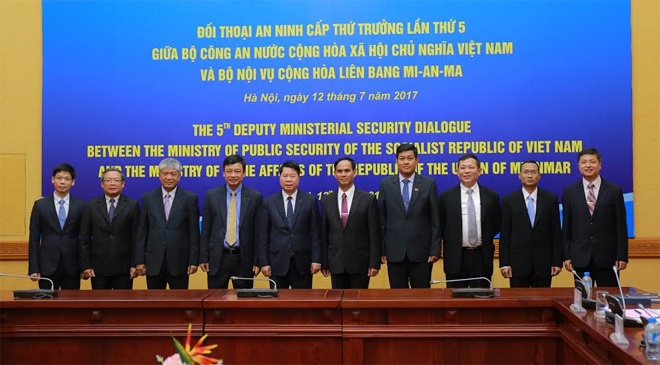 Vice Minister Bui Van Nam, Aung Soe and delegates at the conference (source: cand) 
He added that the two sides should maintain the mechanism and improve its effectiveness to contribute to safeguarding security and social order and safety in each country.
Aung Soe, for his part, expressed his delight at close coordination in fighting crimes between the Vietnamese Ministry of Public Security and the Myanmar Ministry of Home Affairs over the past years.
Minister of Public Security To Lam and Minister of Home Affairs Kyaw Swe (source: CAND) 
The fifth Vietnam-Myanmar security dialogue at deputy ministerial level took place in Hanoi from July 10-13 under the co-chair of Deputy Minister of Public Security Bui Van Nam and Deputy Minister Aung Soe. The dialogue assessed the implementation of the outcomes reached at the fourth dialogue in the fields of security, police, Interpol cooperation and legal framework building.
They agreed to facilitate all-level visits, further increase the exchange of information regarding security, social safety and order, the fight against drug, terrorist, human trafficking, and transnational crimes.
The two sides will continue speeding up negotiations towards signing agreements, conventions and legal documents in the near future.
The next dialogue is scheduled to be held in Myanmar in 2018./.
( VNF/VNA )