11/2/2018 9:01:59 AM
Việt Nam strives to join ASEAN countries with developed statistics
The ASEAN Community Statistical System (ACSS) made a great contribution to the ASEAN economy, said Nguyễn Thị Hương, deputy director of the General Statistics Office of Vietnam (GSO).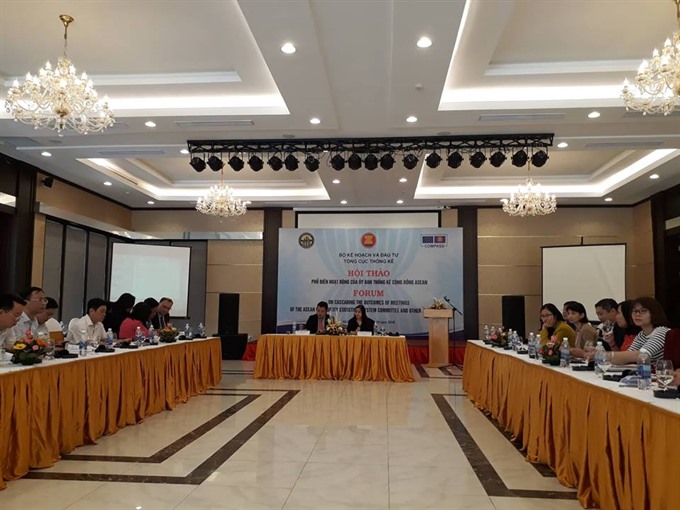 Representatives attend the seminar on the ASEAN Community Statistics Committee. — VNS Photo Thu Trang.
Hương spoke on the subject at a seminar on the ASEAN Community Statistics Committee, held in Hà Nội on Wednesday by the GSO and its partners.
Hương said that with a population of over 640 million people, accounting for 8.5 per cent of the world population with an economy reaching more than US$2,760 billion last year, ASEAN was currently the third-largest economy in Asia and fifth largest in the world.
ACSS has been a big part of the achievements, she said.
ACSS strives to consolidate and improve institutional frameworks, build capacity and harmonise data at the regional and national levels to meet the needs of all stakeholders.
"As a member of ASEAN, Việt Nam has co-operated with other members to build a strong ASEAN community, strengthen relations with partners and maintain and consolidate the important role of ASEAN," said Hương.
In 2015, the GSO coordinated with relevant ministries to compile and submit to the Government the Decision on the ASEAN Statistical Integration Scheme for 2016-20. It aims to implement national activities and co-ordinate with the ACSS to perform the responsibilities of Việt Nam's statistics office.
Hoàng Thị Thanh Hà, deputy director of the Foreign Economy and International Cooperation Department under the GSO, said that if the scheme was successful, the Vietnam Statistics Institute would be able to meet basic requirements and be compatible with the ASEAN statistical system by 2020.
This would put Việt Nam into the group of ASEAN countries with developed statistics, she said.
To carry out the plan, the General Department of Customs under the Ministry of Finance has implemented initiatives related to import and export statistics.
It increased the amount of information on its website, organised two training courses on statistics for officials and helped Lao Customs with import and export statistics, said Hà.
Anang Laksono, senior statistics officer of the ASEAN Statistical Office, said the ACSS's principles of practice were passed in 2012.
ACSS ensured the highest level of trust, accountability and professional standards in production, gave education on ASEAN statistical products and services and enhanced user satisfaction, he said./.
( VNF/VNA )