5/21/2018 4:13:43 PM
Việt Nam-US forum seeks boost to investment, trade ties
There is a huge opportunity for Việt Nam and the US to expand investment and trade ties in many sectors, a bilateral trade forum heard in HCM City on Friday.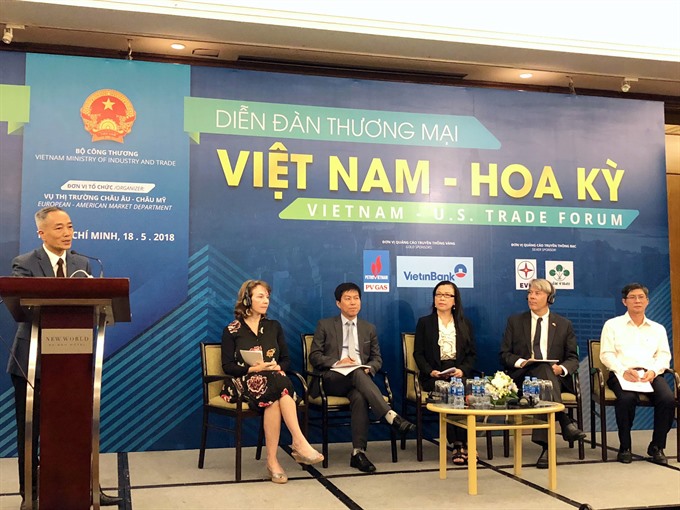 A panel discussion at the Việt Nam-US Trade Forum held by the Ministry of Industry and Trade in HCM City on May 18
Deputy Minister of Industry and Trade Đỗ Thắng Hải said trade between the two countries has gone up from a modest US$220 million in 1994 (the year the US lifted its economic embargo against Việt Nam) to $50.8 billion last year, with Việt Nam enjoying a surplus.
"The US has been the leading trade partner for Việt Nam in the last 10 years."
The two economies are complementary rather than competing, he said.
"Việt Nam, a developing economy, has great demand for machinery, technology, aviation and telecom equipment, agricultural inputs, and others, while the US has demand for agricultural products, textiles, footwear and electronics equipment, in which Việt Nam has competitive advantages."
Tim Liston, deputy principal officer of the US consulate general in HCM City, said: "We have already seen strong growth in bilateral trade, with the US becoming Việt Nam's largest export market." 
Việt Nam is a top 10 market for US food and agricultural products. 
"Việt Nam has the fastest growing middle class in Asia. This means increased demand for the high quality US consumer products and services," Liston said.
He said there is opportunity to improve trade facilitation and expand trade in both goods and services.
"I see opportunity to invest in cleaner energy solutions. I see opportunity to leverage (and in some cases leapfrog) technology to build smarter cities and create new start-ups. I see opportunity to develop educational partnerships that encourage innovation and foster entrepreneurship.
"I see opportunity for greater bilateral investment. The US Mission is currently recruiting a delegation of Vietnamese firms to participate in the SelectUSA Investment Summit that will take place next month in Washington, DC. This summit will expose Vietnamese companies to investment opportunities in the United States."
Challenges
Though its exports to the US are growing rapidly, Việt Nam mainly ships raw or sub-contracted products with low value addition, delegates said.
Đinh Thị Hương Nga of the Handicraft and Wood Industry Association of HCM City said Việt Nam earned $8 billion from export of wood and wood products last year, with the US accounting for 40 per cent of this.
"We mainly make products based on customers' designs. If we invest more in design and exploit the high-end segment, exports to the US can jump many fold."
An AmCham representative said Việt Nam is "very good in volume of export but not good at value of export." She suggested that Vietnamese firms should think about export of "added value products, not jut export of raw materials at a time when trade protection is increasing globally."
According to Hải, the big challenge for Vietnamese exporters is the US's imposition of strict import regulations.
In addition to federal laws, each state has different rules and regulations, he said. Protectionism through new regulations and standards for quality, food safety, origin of products, especially for agro-forestry and fisheries products, is also increasing, he said.
Chu Thắng Trung, deputy director of the Ministry of Industry and Trade's Trade Remedies Authority, said the number of anti-dumping and anti-subsidy lawsuits by the US has already doubled under the new Government there.
"Not only products with high export volumes but even minor items face these lawsuits," he said.
Trương Đình Hòe, general secretary of the Việt Nam Association of Seafood Exporters and Producers, said trade protection has tended to increase in recent years, making it difficult for seafood companies to export to the US.
The US annually imports around 600,000 tonnes of shrimps, or 80-90 per cent of its domestic demand, with imports from Việt Nam just accounting for 10 per cent of imports.
"We can supply higher volumes, our product quality is not inferior to any other country's, but due to anti-dumping issue we have to accept that modest export rate."
The policies are aimed at protecting its domestic market and ensuring consumers get products of good quality and meeting hygiene and food safety standards, he said.
"We understand this and actively work to enhance the efficiency of hygiene and food safety management. But only our effort is not enough, the governments of the two countries need to have specific discussions on trade policies to further facilitate trade between Việt Nam and the US."
Organised by the Ministry of Industry and Trade, the Việt Nam-US Trade Forum attracted more than 300 delegates, including government officials, local leaders, and Vietnamese and US business executives./.
( VNF/VNA )