5/5/2018 11:37:49 AM
VN takes chair of regional medical association
President of the Việt Nam Medical Association (VMA) Nguyễn Thị Xuyên has received the rotational chairmanship of the Medical Association of Southeast Asian Nations (MASEAN) for the 2018-2020 tenure.
The handover took place at the 18th MASEAN conference, themed "Third party administration and medical registration among Southeast Asian countries", which opened in Hà Nội yesterday.
The event was attended by Vietnamese Deputy Prime Minister Vũ Đức Đam, President of the World Medical Association Yoshitake Yokokura, Vietnamese Minister of Health Nguyễn Thị Kim Tiến, and representatives of the World Health Organisation and medical associations of Southeast Asian nations.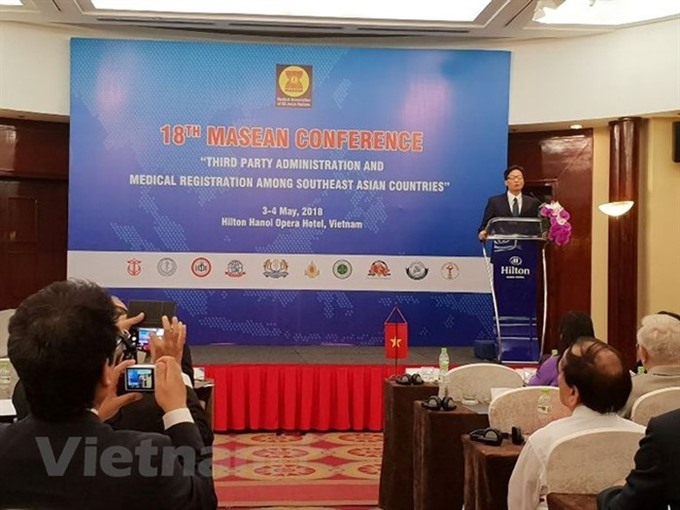 Deputy Prime Minister Vũ Đức Đam speaks at the 18th MASEAN conference which opened in Hà Nội yesterday. – VNA/VNS Photo
In his speech, Deputy PM Đam highlighted the conference's importance to the development of the VMA and health care system in Việt Nam, adding it also contributed to the regional countries' comprehensive co-operation and a practical action of the ASEAN Community to realise health-related goals in the 2030 Agenda for Sustainable Development.
He said the Vietnamese Government always highly appreciated efforts of Vietnamese doctors. The VMA is playing an increasingly crucial role in making policies, popularising knowledge and monitoring State agencies' implementation of health policies.
Addressing the event, VMA President Xuyên noted the MASEAN, founded in 1980, aimed to strengthen relations between medical associations and experts of ASEAN countries, research into and disseminate medical knowledge, report on professional issues, and make common policies to ensure the best possible health care for people.
This was a foundation for the MASEAN to greatly help with improving the quality of health care for more than 650 million people in ASEAN, she said, adding the VMA was a responsible member in realising the targets of the MASEAN./.
( VNF/VNA )