5/30/2018 9:42:03 AM
Urgent measures to bring rail accidents under control: Deputy PM
Deputy Prime Minister Trương Hoà Bình called for urgent measures from transport authorities to bring railway incidents "under control".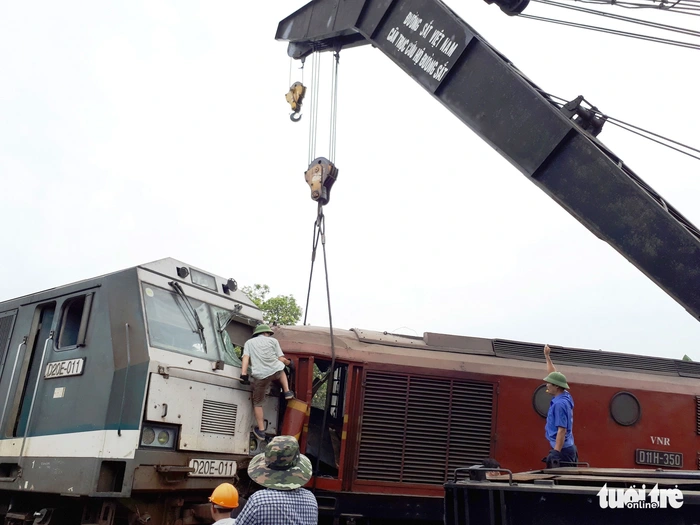 Two freight trains collided head-on on May 26 in Nui Thanh, Quang Nam (source: Tuoi Tre)
Deputy PM Bình's directive came as Việt Nam's flagging railway system is once again under scrutiny as a series of train accidents have raised questions about the sector's safety, quality management and operation capacity.
His latest order came only three days after an order for a probe into the May 24 collision of a train into a dump truck at a level crossing in central Việt Nam, killing two and injuring scores more. The incident marked the start of an unfortunate string of crashes over the weekend that resulted in two dead and 11 injured, damaged rail lines, carriages and locomotive cabs and hours-long disruptions to the vital North-South railway.
Deputy PM Bình asked for expedited efforts to investigate the causes and strictly punish individuals and organisations deemed to be at fault. Railway leaders and transport authorities were also asked to "give timely updates to the media and news agencies."
Existing regulations and protocols on train operations will also be reviewed and consolidated, with greater accountability placed on the leaders of the railway sector if preventable accidents occur.
Local police and the Ministry of Public Security were tasked with pinpointing and delivering suitable punishments to the violators of rail safety laws.
The diagnoses
Traffic experts and railway authorities have weighed in on the causes of the string of accidents. Many said they are due to outdated infrastructure or weak capacity of railway staff.
Vũ Anh Minh, chairman of Việt Nam Railway (VNR), the State company entrusted with managing the railway system in the country, said the current allocated budget could only meet some 30 per cent of maintenance and upgrading needs, adversely affecting railway safety.
"Eighty to 90 per cent of our locomotives and carriages are 20 years old or older. In spite of the old infrastructure, we still strive towards safe operation, but it depends largely on human factors. The repeated accidents in the last few days were just a rare occurrence," Minh said.
A train running on the Hà Nội-Vinh route crashed into a tank truck on May 27 as the truck's driver was ignoring all safety signals and trying to cross over at a level crossing in the central province of Nghệ An. — VNA/VNS Photo
He told Vietnam News Agency that the primary responsibility in recent train wrecks lies with the State-run Việt Nam Railway (VNR) as they are assigned to "manage and effectively operate the system."Trường criticised the State-run railway sector's "mostly manual operation methods that stay largely the same across decades" and called for digitalisation of all aspects of management, making fleet control similar to that of an airport's traffic control unit.Nguyễn Hồng Trường, chairman of Việt Nam Traffic Safety Association, said the four accidents can be categorised into two groups: those caused by the fault of drivers in level crossing accidents, and those caused by "inherent issues" of the railway sector.
Another critical mistake leading to the recent increase in rail-related accidents was the dissolution of safety control committees. Previously, before three separate State companies managing rail activities in all three regions of the country (headquartered in Hà Nội, Đà Nẵng and HCM City) were merged into the current VNR, each company had their own safety committee that would cross-inspect each other when accidents occurred, a retired safety control expert told Tuổi Trẻ (Youth) newspaper.
Currently, VNR's safety and security committee is comprised of only 20 people and based in Hà Nội.
Vũ Quang Khôi, director of the railway department under the Ministry of Transport, admitted some mix-ups during the VNR's restructuring process might have resulted in a "lack of accountability" and said the agency has asked the company to quickly address the situation.
According to Khôi, the Law on Railway 2017 for the first time regulates the duration of the "useful life" of rail components (rail line, locomotives or carriages), which would keep outdated and unsafe components out of service. However, the law would only enter into force starting this July, Khôi said.
Nguyễn Hữu Đức, senior traffic expert from Japan International Co-operation Agency (JICA), said Việt Nam's level crossing safety is inadequate, in an interview with Tiền Phong (Vanguard) newspaper.
Đức also laid blame at the public railway's "poor business performance", which makes it too dependent on the already-strained State budget to carry out much-needed maintenance and upgrades.
The latest plan by VNR to address long-standing level crossing issues was a three-year plan that costs VNĐ1.7 trillion (US$75 million) to eliminate all illegal and unsafe level crossings across the country.
According to recent statistics, accidents from violations of trespassing railroads at undesignated crossings account for 70 per cent of rail accidents./.
( VNF/VNA )