3/9/2018 11:33:14 AM
USS Carl Vinson's chefs make Vietnamese fried pancake, fresh springroll
(VNF) - A culinary exchange program was recently held between Vietnamese chefs and chefs from the USS Carl Vinson, at Madamlan restaurant in Danang City.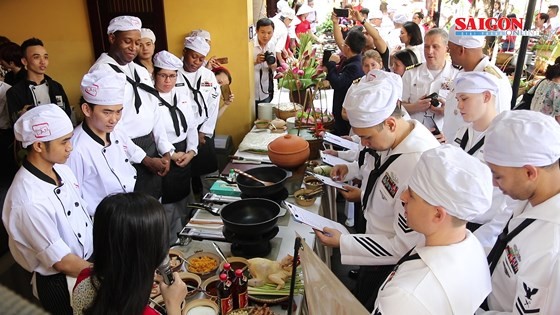 American soldiers excitedly learn to cook Vietnamese food (source: SGGP)
The program, held on March 6, aimed to introduce and exchange Vietnamese cuisine to the US. Navy's chefs and crew members during their visit to the city.
Crew members and chefs from the USS Carl Vinson had a pleasant time of jointly making Vietnamese dishes such as fried rice pancake (banh xeo), mi Quang (local-style noodles) and fresh spring roll.
The event was expected to help promote and introduce to the American friends the image of Danang city as an attractive, safe and friendly destination with delicate culinary culture.
Cooking show is a great way to strengthen friendship and promote tourism. (source: SGGP)
The U.S. Seventh Fleet crew members arrived in Da Nang on board the USS Carl Vinson on March 6, when the supercarrier began a five-day visit to Vietnam.
In addition to military exchange, the trip consists of various cultural exchange, including music performance by the U.S. Seventh Fleet band./.
( VNF )