6/10/2018 10:52:17 AM
US former president Obama: Anthony taught us about food's ability to bring people together
(VNF) –  Tributes from celebrities, friends and fans alike poured in quickly, after CNN confirmed that Anthony Bourdain, the American chef and television personality had committed suicide.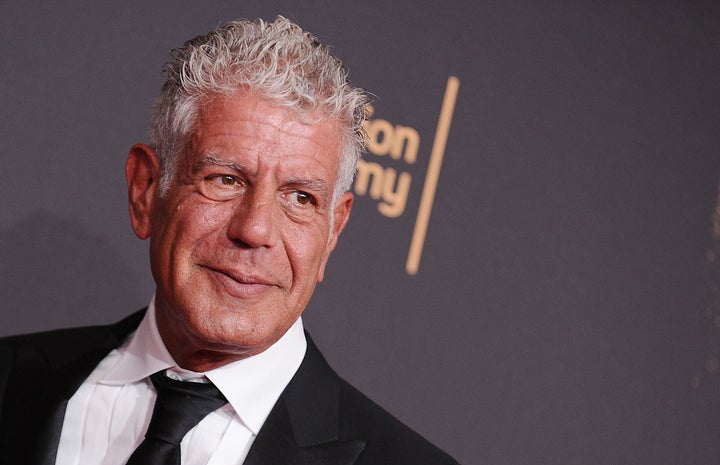 Anthony Bourdain was a famous chef and TV host (photo: Jason Laveris via Getty Image)
The news on Anthony's death was published on Friday (June 8), shocking many people across the globe.
Among those who paid tribute to Bourdain were fellow celebrity chefs and TV personalities including Gordon Ramsay, Jamie Oliver, Andrew Zimmern and Nigella Lawson.
"Stunned and saddened by the loss of Anthony Bourdain. He brought the world into our homes and inspired so many people to explore cultures and cities through their food," wrote celebrity chef Gordon Ramsay on Twitter.
"I have to say I'm in total shock to hear that the amazing Anthony Bourdain has just died," said celebrity chef Jamie Oliver in an Instagram post. "He really broke the mould, pushed the the culinary conversation and was the most brilliant writer."
"He leaves chefs and fans around the world with a massive foodie hole that simply can't be replaced ... rest in peace chef. Thoughts and love to all his family and close friends.
In an Instagram post, Singaporean photographer Russel Wong posted a photo that he had taken of Bourdain in his studio, adding in his post that there was "never a dull moment" with him.
Wrote Wong: "This was shot in my studio for his show No Reservations as we worked so many times together, ate a lot together at my house, hung out at the various down and dirty places in Singapore ... never a dull moment and always keeping it real."
Makansutra founder KF Seetoh also expressed his shock at Bourdain's death on social media.
"I don't know what to say," wrote Seetoh, who had previously taken the chef around Singapore and introduced him to local dishes. "I lost a good friend. Absolutely shocked."
"A piece of my heart is truly broken this morning," tweeted celebrity chef Andrew Zimmern. "And the irony, the sad cruel irony is that the last year he'd never been happier. The rest of my heart aches for the three amazing women he left behind."
"Tony was a symphony. I wish everyone could have seen all of him. A true friend."
Food writer and TV personality Nigella Lawson posted that she was "heartbroken" to hear about Bourdain's death. "Unbearable for his family and girlfriend. I am going off twitter for a while." 
United States President Donald Trump told reporters as he left the White House that Bourdain's death was "very shocking."
"I enjoyed his show, he was quite a character," Trump said.
Former President Barack Obama on Friday fondly remembered CNN host and chef Anthony Bourdain, posting a photo of the two sharing a meal as part of a 2016 episode of Bourdain's show "Parts Unknown".
"Low plastic stool, cheap but delicious noodles, cold Hanoi beer." This is how I'll remember Tony," the former president tweeted.
Obama went on to say of Bourdain, "He taught us about food — but more importantly, about its ability to bring us together. To make us a little less afraid of the unknown. We'll miss him."
Bourdain featured Obama in an episode about Hanoi, filmed in May 2016, coinciding with the then-president's first trip to Vietnam. The two ate bun cha, a dish of rice noodles with pork, broth and greens, and washed it down with beer while chatting about everything.
Bourdain wrote about the experience for CNN, saying that he found Obama to be "very relaxed and at ease," during their time together.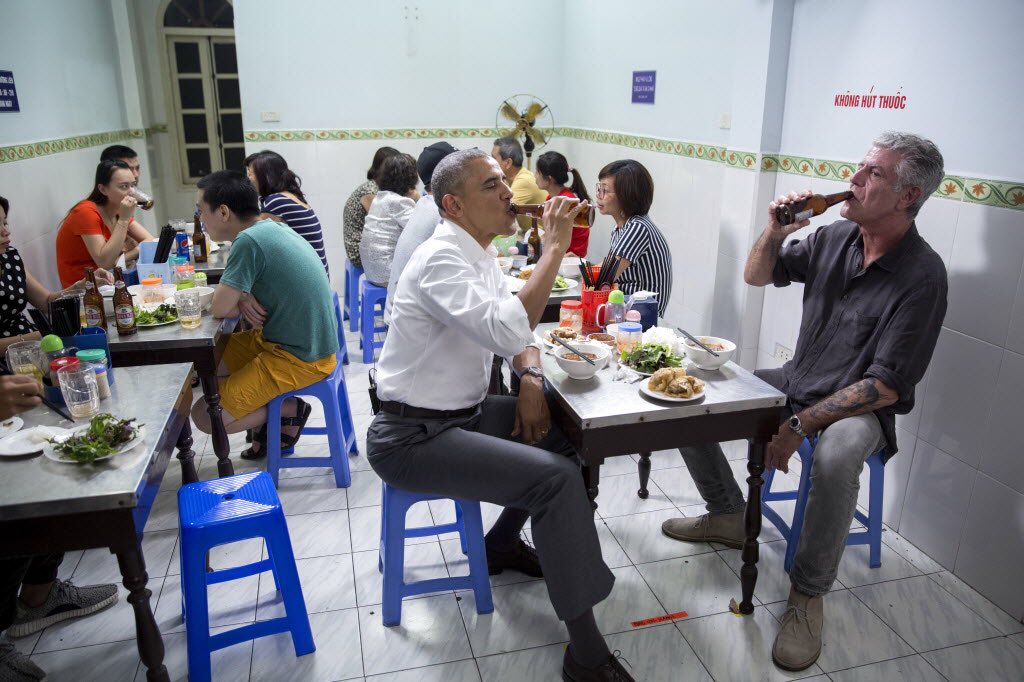 Bourdain featured Obama in an episode about Hanoi, filmed in May 2016, coinciding with the then-president's first trip to Vietnam. (source: Obama's Twitter)
"What can I tell you about what it's like to sit across from the President of the United States and drink beer from the bottle?," he wrote.
"I can tell you that Barack Obama was, in spite of having had a high-ranking leader of the Taliban whacked in Pakistan a few days previous, very relaxed and at ease. He seemed to enjoy himself sitting on a low plastic stool eating noodles and pork bits with chopsticks."
Obama's appearance with Bourdain was one of the many ways he sought to reach new audiences through pop culture and media during his presidency.
Bourdain was found unresponsive in a hotel room in France on Friday morning. CNN confirmed that the cause of death was suicide. The 61-year-old chef and TV host was in France for work on an upcoming episode of his CNN series, "Parts Unknown."
Bourdain leaves behind a teenage daughter Ariane, from his relationship with his ex-wife Ottavia Busia. He had been dating Italian actress Asia Argento since 2017./.
( VNF )