5/30/2018 9:45:39 AM
ULIS plans to set up Spanish language major
(VNF) - A Spanish A1 program for university lecturers and officials of the University of Languages and International Studies (Hanoi National University) were inaugurated on May 29.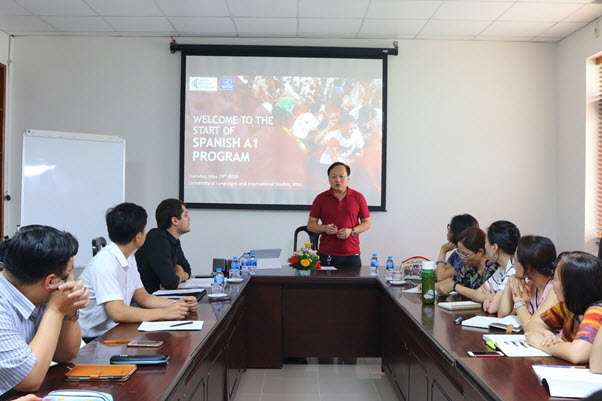 Overview of the Spanish A1 program debut class. (Source: VNU)
The course is part of ULIS's plan to promote the teaching of foreign languages in the institution period 2018-2025, with a vision toward 2035, which aims to create more opportunities for lecturers to acquire more foreign languages, opening the door to explore more cultures.
The Spanish course will be conducted by native lecturers from the Complutense University of Madrid (Spain). After completing the course, trainees can choose to participate in the Common European Framework of Reference for Languages examination  (CEFR) from level A1 to B2.
ULIS will offer favorable condition for lecturers and officials who pass the B2 level exam to further his/her Spanish language study abroad, via the introduction of overseas scholarships. These lecturers are expected to  contribute to the establishment of the Spanish language major in ULIS.
From academic year 2018-2019, Spanish will become the second foreign language taught at ULIS./.
( Translated by Phi Yen )