9/21/2017 2:38:59 PM
Two biggest banks of Vietnam and Laos boost cooperation
(VNF) – The Bank of Investment and Development of Vietnam (BIDV) and the Bank of External Commerce of Laos (BCEL) on September 20 signed an agreement on comprehensive cooperation for the period 2017-2020.
Overview of the signing ceremony (source: CPV)
Speaking at the signing ceremony, Phan Duc Tu, CEO of BIDV said, as one of the leading banks in Vietnam and Laos, BIDV and BCEL have been cooperating effectively in various areas, including business, training & experience exchange. The two banks also work together to provide support to joint stock branches including LaoViet Bank and Lao Viet Insurance.

The signing of the agreement between BIDV and BCEL is expected to widen and deepen the relations between two banks in a comprehensive manner, for the benefits of the two countries and peoples.
It is a meaningful milestone on occasion of the 55th anniversary of Vietnam and Laos diplomatic ties establishment (1962-2017, September 5), and the 40th anniversary of the Vietnam-Laos Treaty of Cooperation and Amity (1977-2017, September 18).
BIDV, founded in 1957, is the largest bank in Vietnam with total assests of VND 1.1 million billion (USD 49 billions)  (by June 30, 2017)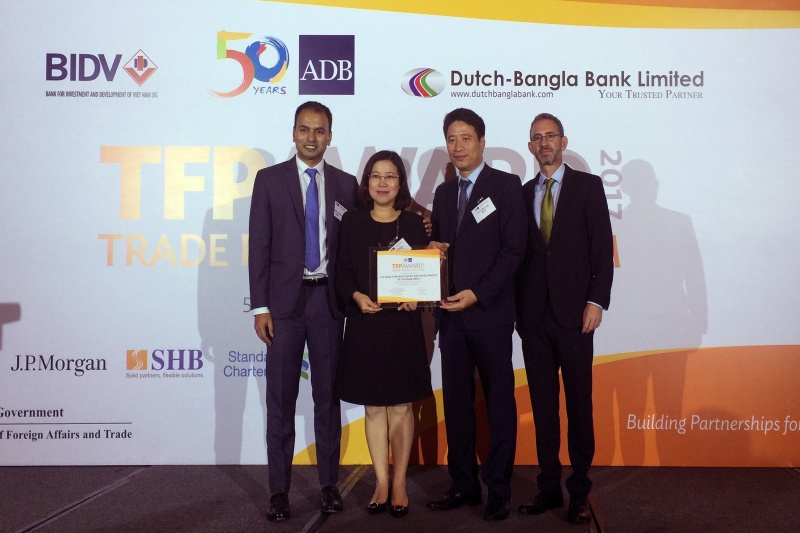 BIDV representative receiving the Leading partner bank in Vietnam by ADB (source: BIDV)
BIDV's portfolio include banking, insurance, security, investment, among others.
With over 1,600 branches, offices in and out of the countries, BIDV takes a key role in mobilizing the business community to support social security in Laos, Cambodia, Myanmar, Cuba, among others.
BCEL, founded in 1975,is Laos' largest bank, with total assets of USD 3.9 billion (by December 31, 2016).
In Laos, BCEL has 19 branches, 75 agencies and 10 foreign currency exchange offices./.
( Translated by VNF )