6/6/2018 3:43:38 PM
Tour companies need to adapt to cater to millennials
With young adults born between 1980 and 1998 now accounting for 38 per cent of Việt nam's population, their travelling and sightseeing preferences are having an impact on the tourism industry, and many companies are trying to cater to this profitable demographic.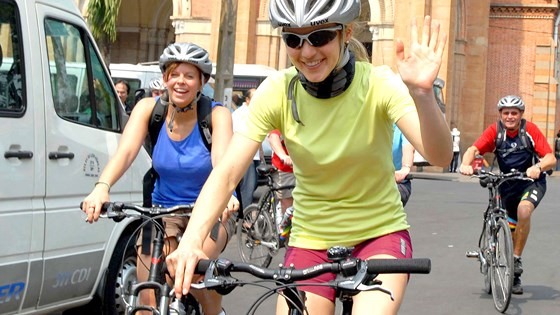 As millennials grow in terms of numbers, spending power and desire to travel, the tourism industry is shaping to cater to them. – Photo sggp.vn
For instance, when Việt Nam News asked several Vietnamese and foreign university students what they considered important on a tour, almost all chose flexibility.
A young British visitor to HCM City, who asked not to be named, said: "We wanted a tour that would give us a good action-packed schedule and that had all the travel planned, but one that also allowed us to be able to do our own thing sometimes and not have to take part in all activities."
Some even prefer not buying a tour at all and instead do their own research and make their own travel plans.
Landscapes, local cuisine and demographics are the most important factors when they select a location.
Tourism experts said millennials are more likely to want to experience local cultures by using public transportation, dining at small local restaurants and conversing with locals to find out more about the place in addition to the obvious benefit of saving money.
According to Lub'd Company Limited, a Thai hostel operator, millennials prefer hostels and Airbnb accommodation over traditional hotels since they see accommodation as a small part of a holiday trip and would spend most of their time exploring.
Free internet is also mandatory for this category of traveller for entertainment and sometimes working needs.
Experts and millennials also said young people are more likely to consult travelling apps such as Trip Advisor and Yelps and their peers rather than more traditional channels.
Phạm Kim Nhung, the director of Star Travel International, said their new tour packages are cheaper than a full tour but offer more flexibility to millennial customers so that they are not constrained by the schedule and have more freedom to choose when and how they would travel and spend their time.
She said in future the tourism industry could design more tour packages targeting millennials with a focus on flexibility rather than a packed schedule, enabling customers to truly experience local culture by figuring things out by themselves and finding their own enjoyment on a trip.
Kevin Wallace from Nikki Beach Hotels and Resorts, Bangkok, noted the rising popularity of beach clubs and said beach tourism would see higher demand as millennials grow in numbers and become better off.
Mauro Gasparotti, director of Savills Hotels Asia Pacific, said Việt Nam's tourism industry has been growing rapidly with more and more hotels and resorts being built.
But he thought the market lacks diversity as companies are only interested in replicating existing successful models such as resorts, and not trying out new types of accommodation.
The millennial traveller market is poised to grow rapidly, making it a challenge for companies to adapt their existing accommodation, he said./.
( VNF/VNA )