9/25/2017 1:01:49 PM
Tien Yen (Quang Ninh): Boarding school kindles the love for ethnic minorities' culture
(VNF) - In a boarding school in the Tien Yen district  (Quang Ninh province), the love for local ethnic groups' culture has been vastly nourished among students.
Young ethnic women perform their folk songs (source: VOV)
Tien Yen district, located at the heart of northeastern Quang Ninh province, is adjacent to Ha Long Bay, the Mong Cai border gate economic zone, and the Van Don economic zone.
Tien Yen is home to several ethnic minority groups including San Chi, Dao, Tay, whose cultural identities have passed down the generations
The diversity in culture has created a distinctive charm for the area.
Dilapidated houses in Tien Yen have been restored. There are 40 old houses scattering around the town. Local people pay attention to preserving the "soul" of their town.
Photographer Can Dinh Loan, who was born in Tien Yen, said: "I take photos of every street corner, every house, and every person. Development is inevitable but cannot overwhelm all the traditional values. Tien Yen town has kept its culture intact and that makes me proud."
Nowadays, while in many areas, cultural identity of ethnic groups are fading due to the hectic pace of modernization and industrialization, it is hard to find somewhere like Tien Yen.
In the area, several classes teaching ethnic languages and folk singing have been opened, while a number of traditional festival have been restored, including "Lồng Tồng" - a Tay festival to mark the imminent crops season, "Đại Phan" – a San Diu new-year festival to thank and ask the Gods for bumper crops and prosperity, and "Cấp sắc" – a mature rite for Dao men.
Nowadays, the fire of love for traditional culture has been kept burning in the young generation, particularly the students who are studying in Tien Yen boarding highschool.
Every Saturday, students of the school gather at their ethnic folk art club to sing and dance together. 
The club, which debuted in 2012, now has 60 members including Dao Thanh Y, Thanh Phan, Tay, and San Chi minority people.
In their weekly meeting, club members learn songs and dances that celebrate a bumper crop or praise the beauty of Vietnam. They have different mother tongues but share the same interest in folk songs and arts performances of all local ethnic groups. 
They also hold singing competitions every Monday. They also learn traditional embroidery and showcase their ethnic costumes at their clubs.
7th grader Chiu Thi Chi is from the Dao ethnic group but also loves "then", a typical singing style of the Tay. Initially, it was hard for Chi to remember the lyrics because she didn't understand the Tay language. 
But things have improved thanks to the supports by her Tay friends. Now Chi can sing in confidence. "At first, I didn't want to sing in an ethnic language. But more and more friends joined me so I felt happy and have loved to sing ever since," she said.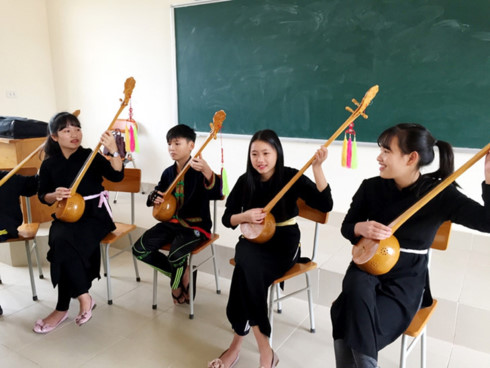 Every Saturday, students of the school gather at their ethnic folk art club to sing and dance together. (source: VNN)
Meanwhile the 9th grader Ban The Huong, proudly stated that he is one of the best singers in his class, while playing the "tính" – a two-stringed musical instrument of the Tay.
The boy is capable of memorizing a large number of folk songs. 
Huong's friends love his singing and encourage him to try new things. 
"I feel very comfortable at the club which provides us a joyful learning atmosphere. I learn a lot about ethnic culture. I want to learn more songs and chants of other ethnic groups across Vietnam and how to play their musical instruments as well. My dream is becoming an artisan," Huong said.  
Many Dao, San Chi, and Tay boys and girls like Huong are dreaming of becoming artisans. These special classes are part of local efforts to promote ethnic traditions.
According teacher Pham Chung Thuong, singing the folk songs of different ethnic groups drives away the shyness of those, who first just talked with friends of the same mother tongue. 
Teachers of the Kinh majority group sometimes struggle to teach ethnic songs because they don't know the languages so the Tien Yen high school invites local artisans to teach both teachers and students. 
The teachers then take notes of these special lessons for later use in instructing their students and also to learn their ethnic languages as well.
Ms. Thuong said, "It was actually very difficult at first but the more we understand the songs, the more we love them. Ethnic culture is very interesting. Learning ethnic languages is essential to teachers, making it easier for us in daily communication and in folk art teaching".
Furthermore, the teachers also learn folk dances and teach them to students, which adds more performances to local festivals.
In addition, the club presents lessons on brocade embroidery of the Dao people and the methods of wearing traditional costumes, which ethnic students wear every Monday.
Many of the club members also join folk art clubs at their places of residency. Those activities help, day by day, build up a greater love of teachers and students for local traditional culture.
Nguyen Thi Thanh Thuy, Head of the Culture Information division in Tien Yen town, said "We believe that these cultural activities will instil in young people a sense of responsibility for preserving their traditional customs."
Truong Cong Ngan, Chairman of the Tien Yen People's Committee, said "We attach importance to restoring disappearing traditions and promoting our cultural values. We will design a policy to further engage people in the preservation of ancient houses and build authentic hamlets of the Dao and Tay people to develop community tourism."/.
( Complied by VNF )