4/9/2018 2:20:41 PM
The teacher who preserves Vietnamese values in Thailand for decades
(VNF) – May village in Nakhon Phanom (Thailand) was established in early 20th century by immigrated Vietnamese from the central province of Ha Tinh and Quang Binh. The village is also home to dedicated teachers like Le Thi Huong who has been spreading the love for Vietnamese language and culture among the overseas youth community.
Teacher Le Thi Huong (source: The world and Vietnam)
Keeping in mind the saying "the existence of Vietnamese language decides the existence of the Vietnamese people", teacher Huong's dream is to maintain the flow of the mother tongue from generations to generations in Thailand.
Vietnamese class and Uncle Ho's candies 
A typical class taught by Huong has 20 students. The class is run on the weekend, twice a week.
According to Huong, what she often told her students when someone appears to be distracted from study was  "the existence of Vietnamese language decides the existence of the Vietnamese people".
More to mention, Huong is also the one who inspires the youngsters to cherish their bond with homeland, and raise their awareness of the importance of learning Vietnamese. She stressing that good command of the language will be the golden key for them to open more valuable door of opportunity in Vietnam.
Her effort and patience have paid off, since Huong's students have been studying hard. Under her instruction and encouragement, many students, despite not born in Vietnam, are now able to read, write and speak the language fluently.
In addition, Huong's students can sing Vietnamese songs, especially those about Uncle Ho.
Besides teaching language, Huong doesn't forget to teach her students about Vietnamese traditional customs, such as proper way of greeting, word of courtesy in a family meal, or how to pay tribute to the ancestors.
Uncle Ho in memories
Currently, Huong is also the Chairwoman of the Vietnamese Association in May village.
Since the village hosted President Ho Chi Minh during the time he was working on his revolutionary path for the independence and freedom of Vietnam (from 1928 to 1929), memories of the Vietnamese great leader are still engraved there.
Huong said, when she was little, her grandfather often told her stories about Uncle Ho, whom was regarded as a close friend of all people in the village. During that time, people used to call him " the ninth elderly" (Già Chín) or Nguyen Ai Quoc.
In the local's eyes, Già Chín was a diligent, caring and helpful person who never mind taking his time helping others deal with their problems.
He was also a dedicated Vietnamese language teacher for overseas compatriots, as well as an enthusiastic instructor on farming work for local people.
Despite it has been nearly 50 years since Uncle Ho's passing, he still lives in the heart of overseas Vietnamese in May village, including Huong's students, who know about the respectable father of the country through their grandparents or parents' stories.
Huong said, on special occasion like Uncle Ho's birthday, she often bought a lot of candies and called them "Uncle Ho's candies" to give her students as rewards.
According to Huong, her students are very excited to receive "Uncle Ho's candies'.
That was one of the simple ways Huong uses to sow the seeds of love for homeland and respect for the great leader in young people's heart.
Where the souls of Vietnam is preserved
In May village, there is a village named Thailand-Vietnam Friendship Village, an initiative of delegates at the Vietnam-Thailand inter-government conference in 2004.
The village was inaugurated by the late former Prime Minister of Vietnam, Phan Van Khai and former Prime Minister of Thailand, Thaksin Shinawtra.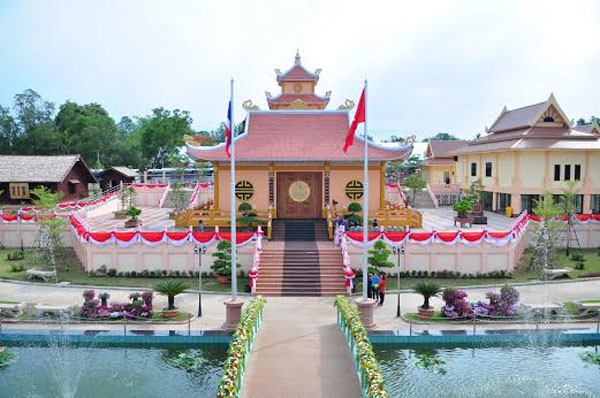 Uncle Ho memorial site in May village (source: VOV)
Any visitor who comes to the Thailand-Vietnam Friendship Village, will be impressed by a quote from Major General Chavalit Yongchaiyudh "President Ho Chi Minh is not only a marvelous leader of Vietnam, but also a well-known figure to the world. The respect for leader of our neighbor country, Vietnam, which shares a close relation with Thailand's history, will be the milestone marking the development of the two countries' firmer and deeper relations, and the two peoples's thriving ties."
The village is now the familiar gathering venue for Vietnamese people in Nakhon Phanom as well as the Northeast region of Thailand.
On festive occasion, they will go there for bonding activities, which help strengthen the solidarity, the compassion and mutual supports for one another as well as preserve homeland's cultural identity.
The friendship village is now a must-visit site for any group of Vietnamese tourists to Northeastern Thailand.
To overseas people like teacher Huong, the village is a great symbol of homeland. Despite living nearly 70 years in Thailand, to Huong and many Vietnamese living in Thailand, the name "Vietnam" still thrills their hearts every time they hear it.
According to Huong, Vietnamese people in the village are integrating well with the host country, and are respected by Thai people for their diligence and kind heart.
Despite holding the Thai citizenship status, Huong still thinks of herself as a Vietnamese.
She has been doing her best to preserve Vietnamese language and the homeland's customs in her family and the community in daily life.
She said she was proud of her grandmum, who had supported Uncle Ho when he stayed in the village.
She is also proud of her 4 family members people, who had come back to Vietnam to serve for the resistent war for independence and freedom.
And the pride has become Huong's motivation to keep the beautiful traditions of Vietnam living vigorously./.
( Translated by Phi Yen )