9/17/2018 5:25:08 PM
Quenching the thirst for books in flooding village
Life may be hard because of the flooding, but hope arrives for the children of Chuong My (downtown of Hanoi), one of the areas hardest hit by heavy downpours that began in late July, thank to an initiative which delivers books to youngsters via boat.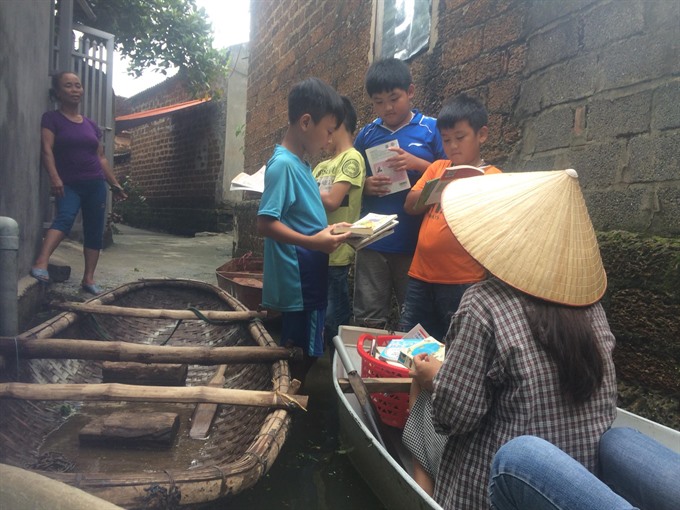 Books on boat (source: VNA)
Hallo World library was founded in 2017 by a young man name Nguyen Quoc Tuan, when Chuong My district was hard hit by severe flood. Tuan and his team decided to bring books to children in the affected areas, in order to light up their days during the difficult time.
When the flood was over, Hallo World later grew into a larger project, which works to help improve local youngsters' reading habit, via providing free-of-charge book-for-loan, organizing weekly book reading & story telling, book exchange, English course for kids, etc.
Books on boat
This year, as Chuong My had to struggle with flood again, Hallo World continued carrying out its simple but meaningful task:bringing books to isolated communities.
According to the Người Hà Nội (Hanoian) online newspaper, Hallo World library (Nhân Lý Village, Nam Phương Tiến Commune) started a trial operation in January and was officially licensed by the commune on March 16.
This year, Hallo World dealt with floods from late July to early August. The library tried to remain open to occupy readers, with many children wading through floodwaters to borrow books.
However, with renewed floods hitting the town on July 22, the library was forced to close.
Despite the inconvenience, library volunteers still work each morning and afternoon. They use a small boat to carry books to local children, Người Hà Nội reported.
"We want to bring the love of books to children, even if they are suffering because of serious floods," said Phung Xuan Truong, a librarian at Hallo World library. "Books can provide a valuable distraction and help children avoid dangerous situations that might arise while playing in the floodwater."
Truong also said three years ago, children started coming to his house to read his books. Before long, Trường's books could not meet the increasing demand of children in the village.
"One day, a friend suggested setting up a library to help children in the village access the world of knowledge contained in books and to keep them at home during floods," he said.
"During the rainy season, the whole village is flooded and electricity is cut off," he said. "Children are stuck at home with nothing to do."
"We called on friends and supporters to add to the books we already had, and eventually set up a children's library at my house," Truong said, noting that the library attracted children from surrounding Hoang Van Thu and Tan Tien communes before the flooding. Hundreds of children came to the library to choose from the nearly 5,000 books on offer. Summer holidays were the busiest time.
Hallo World Library still opens during flood (source: Hallo World)
During the school year, many children used their free time in the afternoons and on weekends to read at the library or bring books home, he added.
According to Hallo World's founder, Nguyen Quoc Tuan, many people are happy to have the library deliver books.
"When there was flooding in past years, we stayed home or sheltered in the evacuation area. Everyone was very sad," said local child Hoang Quyen. "But this year, during half a month of flooding, the library's volunteers make sure we have books to read everyday."
"Where there are children, we will deliver books," he said. "The volunteers go by boat to bring books to each home. Parents and grandparents are very excited to pick out books for their young ones."
The librarian's happiness
Besides his daily work at library, Truong, 39, also teaches children from in and out of the village to read and write.
When he graduated eighth grade at age 13, Truong suffered from a muscle disability. Because he could not go to school, he decided to open a small grocery shop in his home to earn a living.  
During that time, he taught himself to use a pen with his mouth. Now he can write like everyone else.
He finds joy in life by nurturing poor children who do not like studying. He teaches them to read, write and do maths in their free time.
Sitting on his wheelchair, Truong sorts the library's books and teaches the children, taking joy from hearing their laughter fill the house.
Seeing the children smile has brought a new optimism into his life.
"Children in my hometown yearn to go to school and learn reading," said Truong. "I have always said we cannot blame people if they neglect reading when they grow up because many of them could not access books when they were younger."
Friends and members of the community donated age-appropriate books on geography, literature and psychology, but the library is still missing books on law, technology and agriculture.
"I hope the library continues to receive community support," Truong said. "We want to build more bookcases and fill them with books local people will enjoy. I would also like more support from volunteers with good foreign language skills to nurture the children's love for English."/.
( VNF )