(VNF) - In Vietnam, a regulation which requires the identity card number of a parent or guardian in the prescription form to buy medicines for a child aged six will take effect in March.
According to the new requirement, in order to purchase medicines, in addition to name and age of the child patient, the name and age of the parent or guardian, family address, health insurance card number, diagnosis, medicine's names and doctor's advice will also need to be provided 
The ID card number can either be the old nine-digit number or the new 12-digit number. 
The move is aimed at monitoring drugs taken by children to ensure safety, said the Ministry of Health.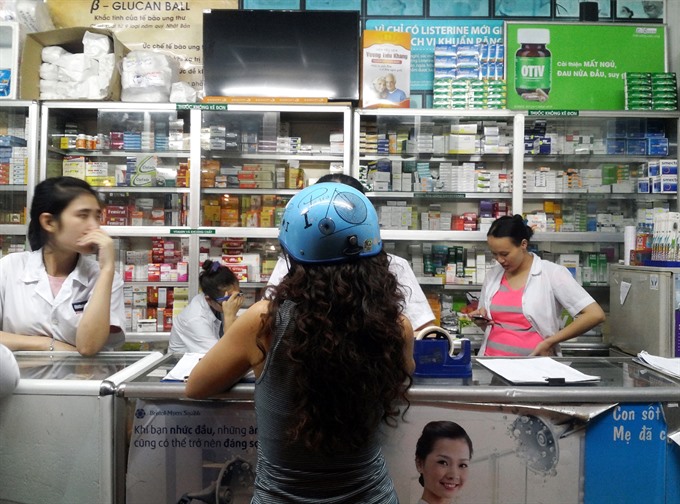 A customer at a pharmacy on Quan Su Street in Hanoi. Parents in Vietnam will need to present their ID card numbers when buying children's medicine from March 1. (source: VNA)
However, the new regulation may make it uneasy for parents in some cases.
A woman named N. Nguyen told Tuoi Tre (Youth) newspaper that when she took her child to the district hospital for a medical examination, the doctor asked for the ID card of the child's father, since her husband's name was written on her child's health insurance card. The woman didn't know what to do as her husband was staying 500km away from home for work.
Paediatric doctors have said the requirement is impractical and are concerned that the regulation would cause inconvenience to patients.
According to Tran Minh Dien, deputy director of National Paediatrics Hospital, the regulation on ID card number of a parent or guardian was currently applicable to inpatients to ensure that the family paid the hospital fee. However, the feasibility of the new regulation must be reviewed.

Another medical expert has recommended that to monitor the use of a health insurance card, the ID card number should be printed on the card and be scanned with the card code, instead of checking the ID card number each time the child underwent a medical examination. This would also eliminate the need for parents to physically present their ID card in case they are not present./.