On the occasion of the 47th anniversary of the diplomatic ties between Việt Nam and Norway (November 25, 1971), Ambassador Grete Lochen sends the first official address as Norway's Ambassador to Việt Nam.
Norway's Ambassador to Việt Nam Grete Lochen. — Photo courtesy of the embassy
Looking back at the 47 years of diplomatic relations, I am happy to see this relationship evolving throughout these years. Let me take this occasion to highlight one area of our joint achievements which still has the potential for stronger cooperation in the years to come – Blue Ocean.
Our Prime Minister Erna Solberg, who is a champion of the Ocean Initiative-Sustainable Blue Economy, said "Healthy Oceans are Wealthy Oceans".  Indeed, never before has the sustainable use of ocean resources become so important. 
Norway and Việt Nam have many similarities as we are both coastal nations with large production industries of seafood and among the world's 10 largest fishery nations. While Norway is the world's second largest exporter of seafood, Việt Nam ranks third.
Last year, the Norwegian government adopted a Blue Ocean Strategy which focuses on developing our ocean related industries in a safer, greener and more sustainable manner in the years to come. Our government also sees the need to address severe plastic pollution in the world's oceans to keep them healthy for our children and future generations.
The ocean truly connects us. Our 30-year bilateral cooperation in the blue economy has become a hallmark in this 47-year relationship. Norway helped Việt Nam with the development of the first Fisheries Law. Norwegian research institutions Tromso University, Bergen University and the Norwegian University of Science and Technology (NTNU) have been collaborating with Nha Trang University in building a strong academic centre with high quality education and capacity in the marine sector. Norway's prominent shipbuilding companies such as Vard have been operating in Việt Nam, and so have many other companies in the maritime/marine sector.
Since my arrival in Việt Nam in September, I have met over 20 Norwegian companies that were visiting Việt Nam to explore the investment and cooperation opportunities in the fisheries, raw material processing, and renewable energy sectors. I do see a lot of potential for Norway-Việt Nam business cooperation in these sectors when I see their enthusiasm and hope. With greener technologies and technical solutions that aim at sustainable use and protection of natural resources, Norwegian companies are ready to share knowledge and expertise with Việt Nam in the areas of our mutual interest.
By 2050, there will be close to 10 billion people on the planet, this means we will need more food, more energy and more means of transport and travel. To meet our basic needs in the future, we need sustainable ocean management today in which international cooperation is crucial.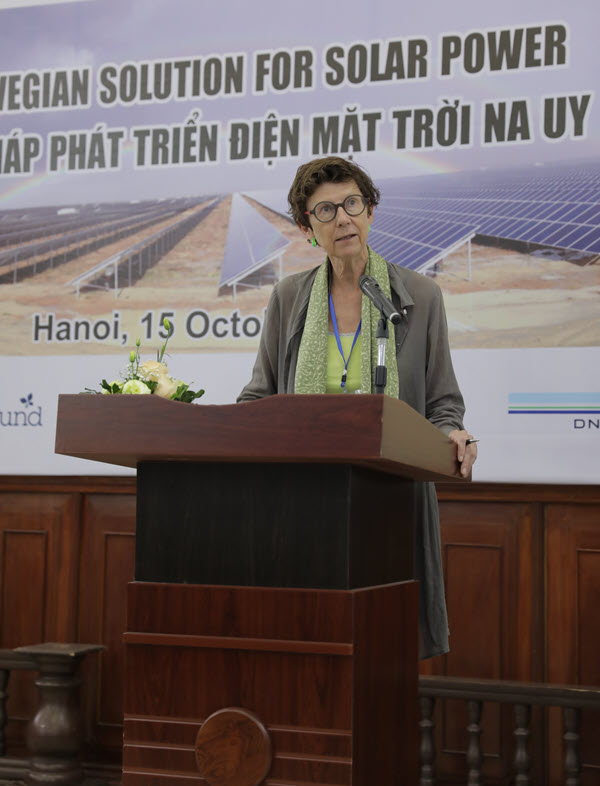 Norway's Ambassador Grete Lochen. — Photo: EVN
Therefore, Norway wants to spearhead the global ocean agenda, and sees a sustainable blue economy as one of Norway's potential cooperation area with ASEAN in the years to come. This will contribute to the achievements of the United Nations' Sustainable Development Goal 14 "Life below Water" for which we are strong supporters.
Norway is a staunch supporter of the UN and a rule based international order. Global challenges need global solutions. Norway has submitted its candidacy to a seat on the Security Council 2021-22 and is ready to serve and work together with Việt Nam.
On this occasion, I would like to warmly thank all friends and partners of Norway in Việt Nam for their cooperation and support. This has laid a strong foundation for us to bring this relationship to new success and achievements. This is what I have committed to do during my next four years in your beautiful country of Việt Nam./.