6/4/2018 3:00:34 PM
Mountainous pupils learn about border
"Do you know what this is?" a teacher asked. "It is a landmark," answered the pupils. "What do you think the border guards are doing?" the teacher asked. "They are going on a patrol," the pupils said.
Believe it or not, this was a lesson for the pupils of A Ngo Secondary School in central Quang Tri Province's Dakrong border District to learn about border laws. The province borders Laos.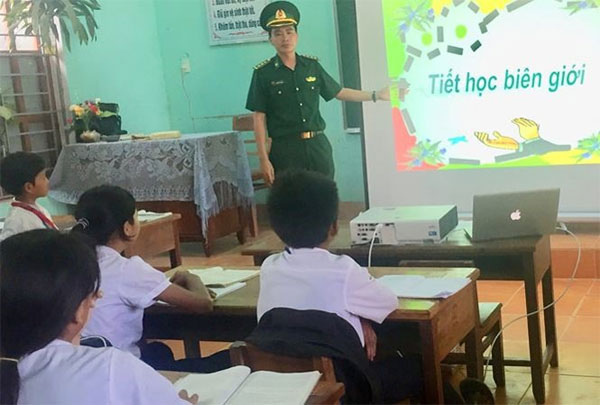 A soldier of the La Lay International Border Gate's Border Post teachs pupils at a "Border Class" in Lay Lay border of Central Quang Tri Province. — Photo tienphong.vn
The 'Border Class' was initiated by soldiers of the La Lay International Border Gate's Border Post in Lay Lay border area two years ago and is held once a week for schools in A Ngo and A Bung communes.
The class was aimed at updating local pupils with knowledge about border regulations, Captain Nguyen Duy Thanh from the Border Post told news website dantri.com.vn 
"Pupils also learn about the rights and obligations of people living along the border as well as essential skills to protect the border, landmarks and fight social evils such as drug trafficking and drug use," he said.
The initiative began two years ago when soldiers from the border post visited A Ngo Secondary School. During the exchanges with pupils, they discovered that most of the pupils did not understand much about the border.
Head of La Lay Border Post Nguyen Ba Duyet told Tien Phong (the Vanguard) newspaper that the class would help raise local pupils' awareness of their rights and obligations as border residents as well as of regulations when entering border areas.   
"Each pupil will then become an active 'information disseminator' to spread knowledge to their family members," he said.
Challanges
However, for these young soldiers, becoming a teacher is not easy.
The biggest difficulty is collecting documents and building lesson plans for each class, according to Thanh.
"No one in the Border Post was trained as a teacher so it is difficult to make lesson plans suitable for pupils at different education levels. Choosing what should be taught and how to teach this 'dry' content to pupils is another challenge," he said.
He recalled there were times when the pupils did not remember what the soldiers taught right after the class ended although the teachers had carefully prepared lesson plans.
But they did not give up.                        
After a long time studying and testing, they finally developed an e-lesson plan that involved audio and visual aids to make the lessons livelier.
Ho Van Nganh, a sixth grader, said the class has helped him learn more about border issues and about the importance of protecting the border.
"I also better understand the sacrifice and difficulties border guards have gone through to protect the country," he said.
Teacher Doan Thi My Le said the class was necessary as teachers like her did not have enough knowledge to teach pupils about border regulations.
"The class is highly welcomed by students as it is practical, useful and is directly taught by border guards," she said.
Principal of A Ngo School, Hoang Quang Can, agreed that the class was very necessary as it would not only help equip pupils but also teachers with knowledge about border issues.
"The model should be expanded," Can said./.
( VNF/VNN )