7/29/2018 11:46:05 AM
Mamma Mia, do you really know?
(VNF) - Mamma Mia, the musical movie featuring ABBA's hit is back this summer. There are two "new comers" which have been on the spotlight recently. Are you keen to know about them?
When the young-and-wild stories of Donna are told
Back in the late 1970s, Donna (played as a young woman by James) has just left university and headed to Greece, via Paris, for the first time. In short order she meets and has flings with the three younger versions of the Firth, Skarsgård and Pierce Brosnan characters, played respectively by Hugh Skinner, Josh Dylan and Jeremy Irvine. Any one of them could be Sophie's father.
If in Mamma Mia I, the middle-age Donna, who is mom of the 20-something Sophie, was played by Meryl Streep, in Mamma Mia II, the story of the young-and-wild Donna was recalled, with the character played by Lily James.
LiLy James plays the young Donna in Mamma Mia part II (source: Pin Interest)
James, 29, first captured the attention in 2013 as the spirited Lady Rose in Downton Abbey before twirling through the title role in Disney's Cinderella in 2015 and riding shotgun last year as a Southern waitress in Baby Driver. 
To the lady,
 the role was a dream job – despite her nerves about the singing and dancing 
 "I was like, 'Are you crazy? It sounds great!'" said James, who eagerly detoured on her way to the Glastonbury Festival in England to audition for the film. But after learning that the part was hers, she got a case of cold feet.
"I really panicked about taking on the role of Donna after Meryl had so magically and vividly brought it to life," she said. "I panicked about the singing and the dancing and the time to prepare. And then I finally decided to bite the bullet."
In Mamma Mia II, James sang a few songs — "I Have a Dream" and "Mamma Mia" — and went into a room with the choreographer, the producers and the director. To her, it was a really scary room. "But I was such a big fan of the musical, and I'd seen it a lot when I was younger, and I loved the movie. I just felt like it captured the heart of what the stage production was, and that's hard to do — keep the same essence and vibe, and keep people jumping up and down."
Prior to the filming, James had watched part one of the movie thousands and thousands of times and tried to mimic Meryl's mannerisms and capture what she thought the essence of Donna was and what Meryl did.
But later, she realized that "Our paths didn't cross that much because of the nature of the film. But she seems just really rooted and cool and generous."
"But you know, she's Meryl Streep, so she walks in a room and it's amazing. She was singing in this chapel, and I knew I was about to meet her, and I started to cry. It was just too much to get my head around. And I told myself to pull it together. She is my favourite actress."
Lily James's favorite scene is there's a moment when I meet Bill, the young Stellan Skarsgard character played by Josh Dylan, and we dance on the boat on the way to Kalokairi. And there was this magical week when every day we were in the Adriatic Sea [in Croatia], which was just glittering, and dancing on this beautiful boat and Abba was blaring out and it was just too good to be true. Every day on wrap we got to jump into the sea, and the sun would be setting as you'd return home. That's what I think is so special about [the movie]. If it's your cup of tea, it's just joyous.
Donna's mummy joins the party
Sophie's grandmom, the character who was not appear in the first part, was played Cher, the diva who has won an Emmy, a Grammy and an Academy Award.
At the age of 72, her voice was still "overwhelmingly powerful and rich, and when you hear it in the flesh, it's mesmerising",  described by Lily James.
Despite being a Hollywood legend, Cher still impressed the film crew by her dedication while working for Mamma Mia part II.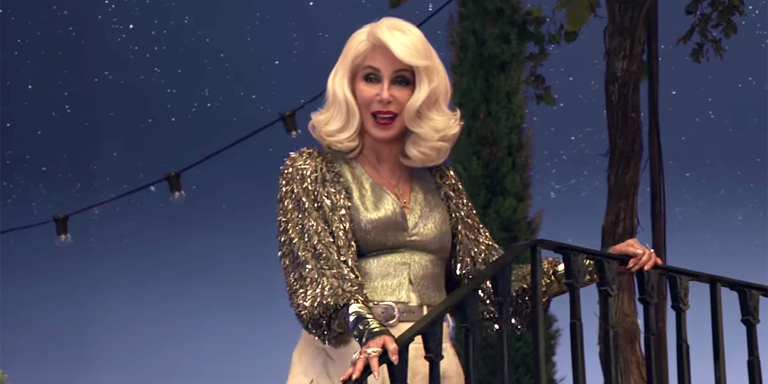 Holywood star Cher in Mamma Mia II (source: Universal)
The associate choreographers have revealed that Cher stayed late on the set of the musical movie to ensure she had the dance routines perfect.
The Believe singer plays Ruby Sheridan in the musical movie - also starring the likes of Amanda Seyfried, Lily James and Dominic Cooper - and she didn't want to leave Shepperton Studios in Surrey, England, until she had mastered the moves.
Speaking exclusively to BANG Showbiz the franchise's associate choreographer, Nichola Treherne, revealed: "She is charming, she works so hard we would be working with till the hourly hours. I remember one evening having to say to her, we've got to finish you are so tired, you can hardly stand up. She was like, 'No, one more time.' I was like, 'No, you've got to stop.' "
Treherne's colleague Lucy Bardrick added how she was keen to get the routines perfected before anyone else working on the film saw her perform.
She said: "We were the latest we'd ever been at Shepperton Studios because she is a perfectionist. She wanted us to get it just right with us in the room before anyone else could see it and work on it."
The 72-year-old icon previously admitted she was terrified joining the project as a newcomer.
She said: "I was terrified because everyone had been together and my character wasn't very liked, so I was nervous, but everyone was nice to me. Meryl was behind a piece of scenery watching me do my number and that made me feel good after the fact. It was hard to go on a set where you were a stranger to everyone. I knew some of the people, but to have such a 'mean grandmother' thing and then work your way into the story and be friends with everybody ... but I felt really kind of loved and kind of a great-grandmother."/.
( VNF )