12/7/2017 10:24:54 AM
Made-by-students lifesaving bed: When knowledge meets humanity
The central region of Viet Nam is frequently hit by natural disasters, especially severe flooding. Every year, during the rainy season, which falls from May to November, the media broadcasts heartbreaking images of people struggling to survive the high waters that sweep away property and livelihoods.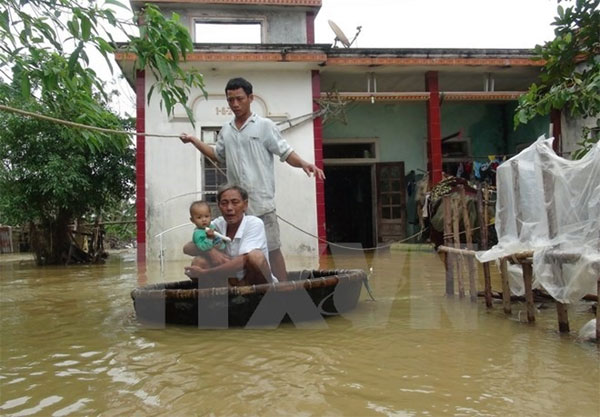 Water everywhere: Locals in Huong Khe District in the central province of Ha Tinh last October. The central region of Viet Nam is frequently hit by natural disasters, especially severe flooding. 
Deeply touched by the losses, two high school students from the northern province of Hung Yen put their heads together and came up with a special bed, able to keep people afloat on water.
Luyen Huy Long, a 10th grader, and Tran Quang Thai, an 11th grader, from Hung Yen Specialised High School, won third prize at the National Technical and Science Competition in March this year for their 'lifesaving' bed.
"When I saw floods hitting the central region in 2016 on television and read about it online, I felt very upset. The haunting images of four kids stranded on bits of debris, and elderly people waiting for rescue on their bed, prompted me to do something to help in these disasters," said Long.
"Given that a person spends one third of their life in bed, I came up with the idea of making one out of styrofoam so it could float on top of the flood," said Long.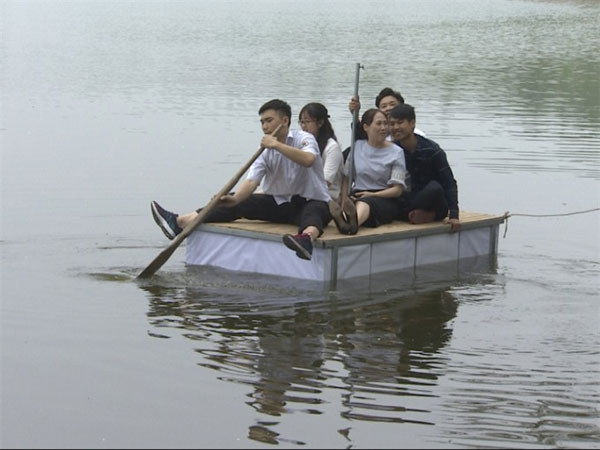 Float to safety: The bed, which can carry between five and nine people at a time, is 2.1 metres long, 1.2 metres wide and about 40 cm high. It floats thanks to the four sponge layers. — Photos: Phuong Hang/ VNA/VNS 
When the annual science competition was announced, Long registered and was paired with Thai, who shared a common interest in science and engineering.
It took four months for the two students to translate their idea into a final product, a floating bed that could carry up to 945 kilograms of weight.
"The most difficult part was incorporating all of our ideas into the design. Almost every day, we would meet up after school, spending hours discussing the project," said Long.
"The product is very simple. It is literally a combination of a bed and sponge to keep it afloat. It is not highly technical, but the idea by the two students is highly humanitarian," physics teacher Nguyen Vu Anh Tuyet told Viet Nam News.
Tuyet provided some technical support to the enterprising youngsters.
With the universal physics programme students are equipped with a large amount of knowledge, for example from Archimedes' principles of buoyancy, with which students can easily calculate the weight capacity of an object over a surface of water, said Tuyet.
"We closely examined the balance of the bed, because in cases of flooding or heavy rain, high winds may make the bed unstable. The balance has to take this into account and be safe for users," said Tuyet.
The bed, which can carry between five and nine people at a time, is 2.1 metres long, 1.2 metres wide and about 40cm high. It floats thanks to four styrofoam layers. In emergencies one can tie the bed to a tree so it isn't swept away, said Thai.
Long said the idea of making a life raft is not new, but incorporating this with a bed means that every family can have one ready in their home. It can be changed and modified to become a lifesaving item with cheap and easily found materials like sponge and plastic bottles.
"The product [Long's lifesaving bed] is highly applicable in real life. People in regions that are prone to flooding can buy or make floating beds from the simple materials in daily life. The Department of Science and Technology will help to register brand protection for this product," the antv.com.vn newspaper quoted Director of Hung Yen's Department of Science and Technology, Ngo Xuan Thai, as saying,
In the flooding season, the bed can be attached to other single beds with joints to form a big panel that can keep people afloat, said Long.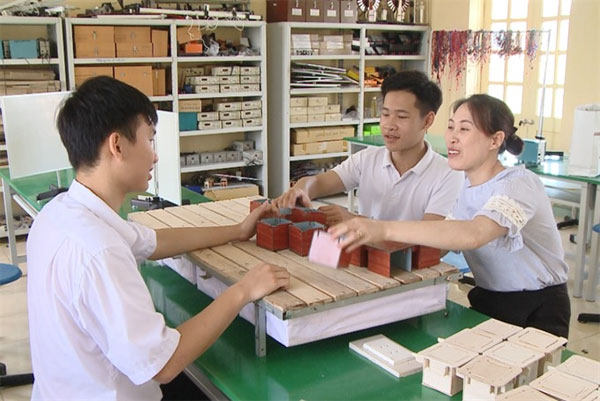 Brainstorming: Long (centre) and Thai (left) took four months to finalise the design of their lifesaving bed project with the support of physics teacher Tuyet (right).
"Plastics may not be cheaper than wood, so we tried wood to start with and are thinking of seeking other materials that could be cheaper. Meanwhile, wood is also safe and popular with local people," said Thai.
As the ingenious lifesaving raft can be made from an existing bed, the total cost falls to just VND1.5 million (US$66), said Thai.
"The project was not easy. During our initial testing we had to stand on the bed and float on cold water in winter.
"We wanted to make sure it would survive in harsh conditions. So we had to make upgrades for unexpected factors, like strong winds or water currents," said Long.
Long said he would add four anchors to each corner of the bed to make it more stable for users./.
( VNF/VNA )