Prime Minister Nguyễn Xuân Phúc has asked leaders of ministries, sectors and localities to pinpoint the weaknesses in dealing with complaints.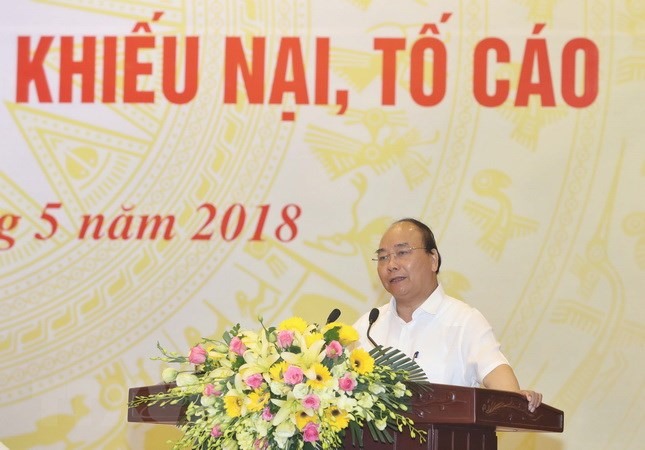 Prime Minister Nguyễn Xuân Phúc speaks at a meeting on dealing with complaints and petitions in Hà Nội on Saturday.— VNA/VNS Photo Thống Nhất 
He made the request at a meeting on dealing with complaints and petitions in Hà Nội on Saturday.
The PM recognised efforts of localities in settling complaints in the past.
But he pointed out there remains many petitions involving large numbers of people as well as complaints that bypass the usual procedure, which is the reason the Government convened the meeting.
He stress that Government leaders say management agencies must review their performance to see whether they have fulfilled their responsibility towards citizens.
"In particularly, Secretaries of Party Committees and heads of provincial People's Committees must question themselves as to whether they have spent adequate time and efforts to handle each specific complaint," Phúc said.
Highlighting the significance of meeting and talking to citizens, the PM said keeping close connection with the people should become part of the working culture of leaders and officials.
He asked all localities to report on whether they have held weekly meetings as required to review the settlement of people's complaints as well as regular meetings with locals.
At the same time, the PM also stressed the need to handle those who incite people who break the law.
Noting that a majority of complaints related to land compensation and ground clearance (95 percent), the PM said that economic development should bring about adequate benefit to the people.
Sustainable development will not be reached if the problem is not solved, according to the PM.
The PM also asked that when residents of a locality bypass local authorities to file complaints to authorities at higher level, the Chairman of the People's Committee and Secretary of Party Committee of that locality must hold dialogue with the complainants./.