5/22/2018 3:22:53 PM
Korean businessman's scholarship accompanies ULIS students throughout two decades
(VNF) – 10 needy students of the Faculty of Korean language and culture (University of Languages and International Studies, Hanoi National University) on May 21 received the Han Soo Kong scholarship 2018.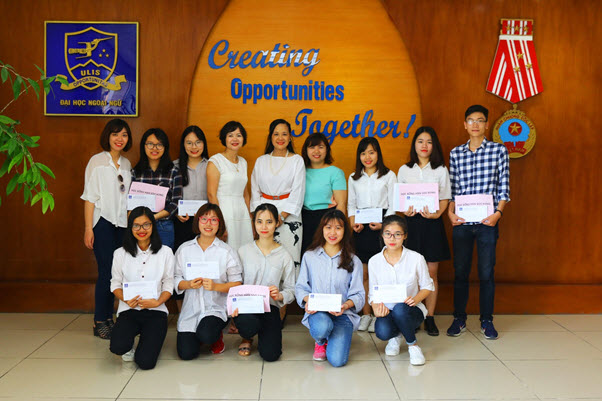 ULIS's management, teachers and students who are presented with Han Soo Kong Scholarship in a group photo (source: VNU)
The scholarship was founded by Han Soo Kong, a Korean entrepreneur, targetting poor students who have overcome their hardships to reap high results in academic works and extracurriculum activities. The Han Soo Kong scholarship has been accompanying ULIS students throughout two decades.
Speaking at the ceremony, ULIS's Vice Rector, Assoc.Prof.Dr.Ngo Minh Thuy congratulated the 10 students on obtaining the scholarship, stressing that they represent the attention of Han Soo Kong for needy students. The scholarship means to encourage the recipients to keep striving for excellence, despite their difficult background, she noted.
In addition, the Vice Rector expressed her hope that the students will continue to perform brilliantly, to meet with the expectation of Han Soo Kong and teachers, families.
Apart from Han Soo Kong scholarship, every year, there are a variety types of scholarships have been presented to students of the Korean Language and Culture Faculty (ULIS) such as One Asia, Samsung Korean Scholarship, Lotte Foundation,  KEB HANA, etc./.
( Translated by Phi Yen )