4/13/2018 11:08:49 AM
Korea: 200,000 bowls of Vietnamese phở sold out in 10 days
(VNF) – 200,000 bowls of Vietnamese instant beef noodles (phở bò) were sold out within 10 days in Korea, said the Director of Purchasing Department of GS25 convenience store, Cho Byung Hyun.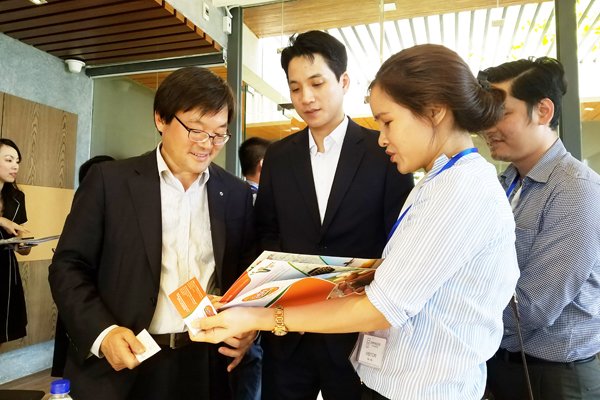 Representative of Tai Tai company, a packaged snack manufacturer in Vietnam introduces products with Jong Su Kim, representative of GS Retail (source: SGGP)
The figure was published at a meeting between GS25 and nearly 100 Vietnamese firms, held by the Business Association of High Quality Vietnamese Goods on April 12.
The Vietnamese noodles brand mentioned by GS25 representative was a popular product of Vifon, one of the first companies in the instant food industry in Vietnam.
According to representative of GS25, in addition to instant noodles, Korean market welcomes all made-in-Vietnam hi-quality products, and GS25 is willing to be the distributors.
Earlier, during the recent High Quality Vietnamese Goods Trade Fair in HCM.City (April 3-8), Vu Kim Hanh, President of the Business Association of  High Quality Vietnamese Goods, said GS25 team dropped a visit to the event, and consult 20 experts to seek opportunities for Vietnamese goods to enter Korea.
GS25, the Korean-based convenience store system was brought to Vietnam by a property group in August 2017. The first store was opened in early 2018. At the moment, there are totally five outlets of GS25 in HCM.City./.
( Translated by Phi Yen )