5/16/2018 1:37:34 PM
Improving competitiveness of Vietnamese potato
(VNF) – In Vietnam, potatoes dishes are considered a good way to improve food security and boost a nutritious, healthy and diverse diet. Nowadays, consumers are having more choice when it comes to purchase this kind of farm produce.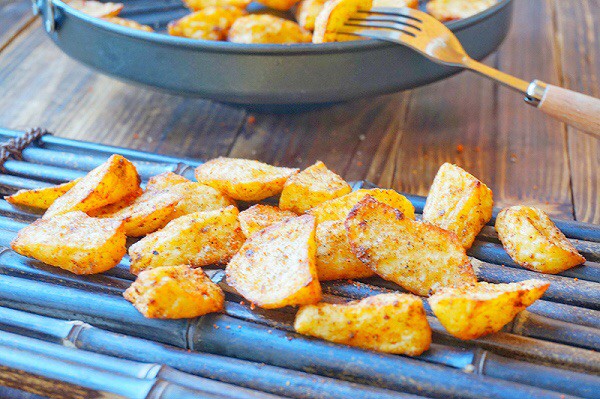 Potato can be used to create many flavorful dishes, including crispy fries (source: Afamily)
Potato was brought to Vietnam by the French, together with the bagguette, cheese and various Western vegetables from the West.
Nowadays, it is still a favorite dish in Vietnam, with different cooking methods, from being used to make crispy French fries, to potato soup, potato salad, etc.
Prospects for imported potatoes
Despite the relatively low consumption of potatoes in Vietnam (~4 kg per person per year, which is far less than what European countries consume, about 70-75 kg per person per year), the number is expected to increase.
At the moment, China, US and India are still the largest exporter of fresh potatoes to Vietnam.
US Potatoes introduced to Vietnamese consumers by FiviMart in 2015 (source: thoibaonganhang.com)
Recently, the game is attracting more players.
In a press conference held in November 2017,  French agriculture affairs counselor Alexandre Bouchot made an announcement that 3,000 tons of potatoes will be shipped to Vietnam in the first quarter of 2018, and had submitted potato quality and safety certificates to the Vietnamese authorities.
In addition, Vietnam's inspection delegations have been brought to France to look into French potato farming and processing.
If France successfully exports potatoes to Vietnam next year, it will become the first European country to sell the commodity to Vietnam. France has more than 400 species of potato, so it can meet the diverse demand of Vietnamese consumers, said Bouchot.
Recently, Belgium has expressed its willingess to export potatoes to Vietnam, on occasion of an official visit made by the Belgian business delegation led by Minister-President of Flanders region from May 13-17.
As the world's largest exporter of potato chips, Belgian potato exporters are taking part in this trip to expand their market share in Vietnam.
French potatoes will be exported to Vietnam in 2018 (source: VNexpress)
Agristo, Bart's Potato Company, Clarabout Potatoes and Mydibel are the four largest family businesses in Belgium that specialize in the export of potato products and Belgian specialties. Their products are now present in over 100 markets worldwide.
As part of the expansion of export markets in South East Asia, Belgian fries were officially introduced in Vietnam after launches in Indonesia, Thailand and Singapore.
Belgian companies have assessed that the potential for export activities in Vietnam and Southeast Asia has not been fully exploited. It is the fastest growing region in the world and has a rising middle class. Belgian companies have expressed their desire to bring Belgian culinary products to these markets.
"The frozen French fries industry is ready to meet the needs of consumers," said Romain Cools, secretary general of Belgapom.
Belgian companies will help consumers improve their understanding and recognition of their brand, thereby developing these products and increasing their production. As a result, Vietnam will reduce their dependence on imports from the Chinese market.
In the past year, Belgium's potato exports to Vietnam have increased by over 50 per cent.
Belgian companies will help consumers improve their understanding and recognition of their brand, thereby developing these products and increasing their production. As a result, Vietnam will reduce their dependence on imports from the Chinese market.
Local potatoes on the way to improve competitiveness
At the moment, Vietnam is not only diversifying its potatoes import sources, but also focuses on improving the productivity and quality of domestic products.
Potato has also been proved a profitable addition to the current crops planted by small-scale farmers in Vietnam.
However, despite containing more fibre, vitamins, and minerals than rice or wheat, production requiring less water and land, production and consumption of potatoes in Vietnam are remains relatively modest. 
Thanks to the support of Ministry of Foreign Affairs of the Netherlands and Dutch Wageningen University, a 5-year Public Private Partnerships (PPP) project titled "Growing out of poverty with potato has been carried out in Vietnam since 2014.
The project has acquired promising achievements. With the supports from Fresh Studio (local project management), Agrico and PepsiCo, the project aims at setting an example of a sustainable value chain for high quality potato in Vietnam.
They have so far successully run the production trials for two Dutch potato varieties, Markies and Rosagold, before putting in mass production.
On the supply side, the project focuses on testing high-yielding varieties, training farmers and production advisors.
After two years, the project has obtained certain achievements, including providing training for 27 production advisers and 1690 farmers (70% were female); connecting farmers and traders via a series of field activities, leading to the successful signing of more than 648 supply contracts.
In addition, nearly 1000,000 consumers in the urban areas of Hanoi and Ho Chi Minh city were reached during several awareness campaigns (online and offline) on nutritional values of potatoes and recipe using potato.
The project also carried out research on 100 consumers to understand domestic demand, consumers' preferences and behaviour.
Furthermore, the Potato Policy Discussion Platform has been formed and active with regular meetings and policy workshops.
 Markies & Rosagold potatoes introduced to Vietnamese farmers (source: Fresh Studio)
According to Marjolijn Sonnema, Dutch Vice Minister of Agriculture, as one of the world's biggest agricultural manufacturers, the Netherlands hopes that their expertise will help Vietnam in enhancing food security, promoting sustainable agricultural production, increasing farmers' incomes, and improving their livelihoods.
Meanwhile, Siebe van Wijk, Managing Director of Fresh Studio, the implementing partner of the project, said the 5-year project stimulates supply, fosters demand, develops the value chain and initiates a structural policy dialogue to support a sustainable potato sector in Vietnam.
The project is successful when the Vietnamese potato sector can compete with imports and supplies of both the domestic table potato market and the potato processing industry with a consistent volume of high quality potatoes, he noted.
With a smart approach and dedicated implementing partners,  the project is expected to build a robust system for potato sector which can sustain and flourish even after it ends. And the day when Vietnamese potato can compete with imports, supplying effectively for the domestic market will come soon./.
( Phi Yen )