11/8/2018 10:04:52 AM
French architecture in Saigon (HCM City) in spotlight
The French-style architecture of Saigon (now HCM City) during the XVII – XX century is being brought to the public via 300 rare photos and documents displayed on Nguyen Hue Pedestrian Street in HCM City's District 1.
Young people at the exhibition. (source: CPV)
The exhibition themed "Dấu ấn kiến trúc Pháp ở Sài Gòn – Thành phố Hồ Chí Minh" (Mark of French Architecture in Sai Gon – HCM City) is organised  by the National Archives of Vietnam under the Ministry of Home Affairs, HCM City People's Committee, and Consulate General of France in HCM City.
The exhibition features maps, administrative documents, and royal technical documents on the formation of Gia Định (now HCM City) when Marquis Nguyễn Hữu Cảnh established territorial sovereignty in the south in 1698.
Photos of typical French architectural constructions built during the second half of the 19th century to the first half of the 20th century are on display, including images of iconic buildings like the Notre Dame Cathedral and the Central Post Office.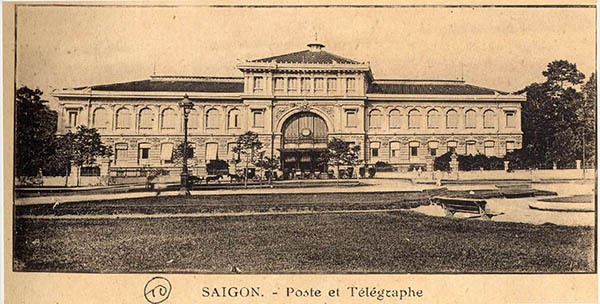 An image of Saigon Central Post Office, which was built between 1886 and 1891. Photo courtesy of the organisers
All of the documents and images are provided by the National Archives of Vietnam, the French Archives and the Consulate General of France in HCM City.
The event is part of the celebrations of the 45th anniversary of bilateral diplomatic relations and the fifth anniversary of the Vietnam– France strategic partnership. It aimed to welcome the official visit of French Prime Minister Édouard Philippe to Vietnam from November 2-4.
The exhibition also marks the 320th anniversary of Saigon-Cho Lon-Gia Dinh-HCM City (1698-2018). It will be open until November 24./.
( VNF )