9/29/2017 3:02:22 PM
Food safety a must to ensure quality and competitiveness of Vietnamese products
Ensuring food hygiene has been set as a key factor for Vietnamese products to further integrate into international markets, particularly for enterprises who want to enter fastidious markets that have a range of strict safety food regulations.
In the first half of this year, roughly half of the 1,200 Vietnamese enterprises withdrew their exports from the list of active food exported to the US market. In addition to the reason for halting business, a number of products do not meet the importers' new requirements on food safety, according to the provisions under the Food Safety Modernisation Act (FSMA).
The FDA Food Safety Modernization Act (FSMA), the most sweeping reform of our food safety laws in more than 70 years, was signed into law by President Obama on January 4, 2011. It aims to ensure the U.S. food supply is safe by shifting the focus from responding to contamination to preventing it. 
"Non-compliance with food safety regulations is the largest barrier to entry," said Rick Gilmore, chairman of the Global Food Safety Forum, at a seminar on "Global Food Safety Trends and Solutions to Expand Export Markets for Vietnamese Enterprises" held in HCM City in April.
Vietnamese exports need to strictly follow international food safety regulations in order to improve their quality and competitiveness in the international market. (source: NDO) 
Under the 2014 Farm Bill in the US, which went into effect in March last year, in the 18-month transitional period (March 1, 2016 – September 1, 2017), the Food Safety and Inspection Service (FSIS) aims to use an "interim re-inspection strategy".
The regulations has been fully enforced since September 1, 2017, when all imported shipments of Siluriformes fish/fish products to the US are required to be presented for re-inspection to the US Department of Agriculture (USDA).
Experts have said that the FSMA applies to all US manufacturers and importers, as well as foreign companies worldwide who export food to the US market, to ensure that consumers are safe against products made in the US and those imported into the country.
Within the FSMA, the US state agency (in this case the FDA) has moved the food safety approach from product control to process control. FSMA has access throughout all of the manufacturing processes, including raw material supply, processing, packaging, labeling, shipping and marketing. This new regulation puts pressure on all elements of the import and export chain and the responsibility is shifted to input producers.
Producers are required to develop and manage a safe food production and supply chain, while records, data, and plans for food safety should be set up, updated and stored. Meanwhile, they also need to appoint a US-based liable representative, who is ready to cooperate in the case of an incident or requested by FDA for risk screening.
At present, this representative is not only designated by the company as before, but also needs to be confirmed with the FDA. This may be the main reason for the reduction in the first half of 2017, halving the 1,200 Vietnamese enterprises registered to export food products in the US as of the end of 2016.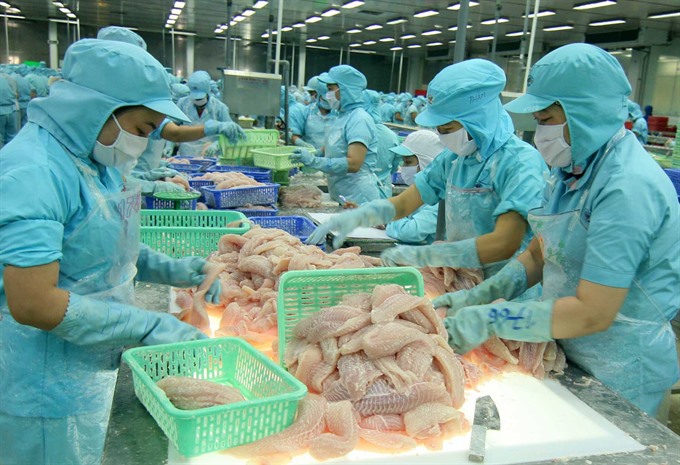 Seafood being processed at a factory run by the International Development and Investment Corp in HCM City. (source: VNA)
Accordingly, the FSMA presents a substantial challenge for Vietnamese businesses exporting food to the US market. The habit of conducting business in the style of "improvisation", hoping to meet potential partners for export, will no longer exist. If food safety monitoring and evaluating systems have not been set up prior to production and seeking import partners, businesses will certainly fail.
FSMA or similar issues have been promptly notified by various government regulators at different levels on their official channels, but why is the diffusion of information to enterprises and those directly involved in production still low? What is the role of associations and management agencies? What has been done by the business community representatives?
Except for some cases businesses deliberately violate rules for profit, as most enterprises want to increase their competitiveness and run a healthy business in the context of deepening international economic integration. In almost every field, including food safety, there is a popular phenomenon that enterprises violate the rules but they are not aware of their violations and then have to pay a high cost for their mistakes. Meanwhile in Vietnam, there is no national conference on this subject with support from the State and advice from foreign experts.
Although no State management agency can do it all for businesses, it should be in the form of a public-private partnership, the State, representatives of the business community and the relevant associations to study and evaluate the impact of new international rules on food safety to businesses.
From that base, it is necessary to establish a research and warning system in order to support enterprises, while increasing information dissemination and coordination with enterprises, to quickly bring the food safety sector to a new height, to assist enterprises in joining the global "playground."/.
( VNF/NDO )