12/6/2017 12:15:35 PM
Finland: the only country where dads spend more time with kids than moms
From paid paternity leave to universal daycare, Finland is closing the gender gap. What can it teach the rest of the world?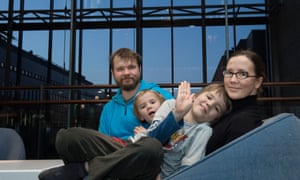 A Finnish family (photo: Jussi Eskola)
To Americans and Britons, the Nordic countries have come to represent a near-mythical paradise of gender equality and family harmony, where legions of happy fathers push prams through the streets, relaxed mothers enjoy lengthy paid maternity leaves, and well-nourished children in chunky sweaters glow from their free healthcare.
But even against that backdrop, one statistic about Finland, a nation of 5.5 million, stands out: according to a recent OECD report, it's the only country in the developed world where fathers spend more time with school-aged children than mothers, to the tune of eight minutes a day.
The Global Gender Gap report rated Finland the second most equal country in the world in 2016, and the Economist recently rated it the third best country to be a working mom.
How did Finland get there? And what can the rest of us learn from this small Nordic nation that might accelerate the battle for gender equity in other places? It's a story of collective action and political will, of a strong tradition of social democracy and an accommodating tax system. But it also boils down to a key difference in how Finland frames the conversation: it's not about what's good for adults – it's about what's good for children.
"This is a question of gender equality, but it's more a question of the rights of the child," says Annika Saarikko, Finland's minister of family affairs and social services, one of six female ministers out of a cabinet of eleven. "This is not about the mother's right or the father's right – but the child's right to spend time with both parents."
Finland believes fathers play a crucial role in child development. The government offers fathers nine weeks of paternity leave, during which they are paid 70% of their salary. And to encourage fathers to take advantage of the benefit, it recently launched a new campaign – with flyers showing a burly construction worker joyfully pushing a pram – called "It's Daddy Time!" 
"We want fathers to take more of the shared parental leave available," says Saarikko. "We are quite sure if we look at the research that the connection between the baby and the father is really important – the early years are vital and we believe in investing in that."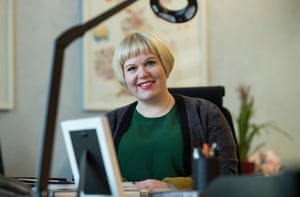 Annika Saarikko, Finland's minister of family affairs and social services: 'The early years are vital.' Photograph: Jussi Eskola
While she advocates for fathers, Saarikko is also a fitting example of how mothers in Finland are to a degree liberated from the constraints of motherhood by the country's supportive policies. She is 33 and has a three-year-old child in full-time public daycare. Her husband also works full-time. "You can be a young woman and a minister here," she says. "My situation is not abnormal. In Finland it is normal to combine work and family – it's not easy, but it's not impossible."
Finland's current standing reflects a long legacy of women's advancement. The country was the second in the world to give women the right to vote, and the first – in 1906 – to give them full political rights. Today, 42% of parliamentarians are women, whereas in the US, women hold just 19.6% of seats in Congress. "Finland was a poor country where women worked alongside men, and we all had to work together after the war to pay off our debt to the Russians," says Paulina Ahokas, director of Tampere Hall, the largest concert and convention center in the Nordic countries. "But women have also been involved in decision-making for a long time – we believe that [leads to] the best decisions."
Social support from the start
The Finnish state strives to provide both mothers and fathers with meaningful social support before their child is even born – and perhaps not coincidentally, the parents the Guardian spoke with in Finland seemed significantly less stressed than their counterparts on the other side of the Atlantic.
When parents have a child in Finland, they don't have to worry about a huge medical bill. A pregnant woman with no complications can expect to be seen between 11 to 15 times before giving birth for free, and the cost of having a baby is nominal. Meanwhile, in the US, a delivery alone costs an average $10,000, while a caesarean delivery costs over $15,000, according to the International Federation of Health Plans (IFHP).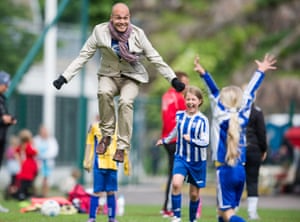 A dad cheers his daughter on the sports field in Helsinki, Finland. 'This is not about the mother's right or the father's right – but the child's right to spend time with both parents.' Photograph: Jussi Eskola
On top of that, for the past 80 years, the Finnish state has also gifted parents with a "baby box", filled with newborn essentials including a sleeping bag, mattress, outdoor gear, toiletries and playsuits – all in gender neutral colors, of course. While families can opt to receive €140 instead, 95% of first-timers take the goodies, as they are worth much more.
The baby box has been credited with helping Finland achieve one of the lowest infant mortality rates in the world – it saw only 1.7 deaths per 1,000 live births in 2015, compared with the states' strikingly high rate of 5.82 – not because of the bed itself, but because pregnant women must have a checkup before the end of their fourth month of pregnancy to receive it. "It's the contact that's important, not the box," says Anita Haataja, who works for the Finnish social agency Kela.
Once the baby is born, Finland gives mothers about four months of paid maternity leave and fathers a little more than two months of paid leave. On top of all that, couples can share an additional five-plus months of paid parental leave between them. While most dads take the first three weeks of leave offered to them, only about half take the full two months and only a small percentage beyond that – numbers the "Daddy Time" campaign is hoping to boost.
Even after the parental leave period ends, one parent has the right to stay home, and get "paid" €450 a month, and return to the same job until the child is three years old. (Granted, some critics argue this stipend encourages women to stay away from the workplace for too long, thus harming their job prospects).
For Sami Sulin, who works in the back office of a bank, the benefit offered a welcome opportunity to spend time with his daughter. He stayed at home for a full 10 months from the time she was 10 months old, and he says an increasing number of his friends are doing the same. "No one was negative about it," reports the 35-year-old. "I think it is just more socially acceptable now. There is a recognition that fathers need to participate in family life."/.
( VNF/ The guardian )