6/4/2018 3:32:15 PM
Farmers shouldn't expand pig herds: ministry
Farmers should not increase herds of pigs at present, though the market has seen a strong recovery in pig prices, according to the Ministry of Agriculture and Rural Development (MARD).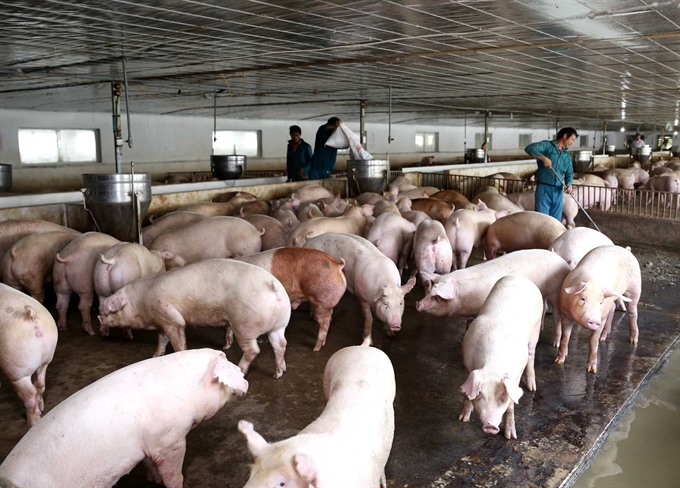 Pigs are raised in a farm belonging to Hà Văn Tinh in Cẩm Thăng commune, Cẩm Xuyên district in the central province of Hà Tĩnh. — VNA/VNS Photo Vũ Sinh
At present, the price in the Cửu Long (Mekong) Delta region has increased by VNĐ16,000 per kilo of live pigs to VNĐ43,000-46,000 against the end of 2017.
The price has surged by VNĐ11,000-12,000 per kilo of live pigs to VNĐ43,000-47,000 per kilo in the northern provinces and by VNĐ12,000-16,000 per kilo to VNĐ42,000-45,000 per kilo in the central provinces, including Nghệ An, Hà Tĩnh, Thừa Thiên-Huế and Quảng Nam.
Now, the price has exceeded VNĐ50,000 per kilo in many localities, and there is no sign of a slowdown in the price of pigs.
That price was much higher than the lowest level of VNĐ17,000-20,000 per kilo last year.
The ministry said the increase in the price of pigs was partly due to the reduced supply of pigs after farmers stopped pig farming following a strong drop in pig prices last year. At present, the number of pigs in the country has decreased by about 5.4 per cent against the same period in 2017.
Many owners of pig farms said the crisis in pig prices last year caused 50-60 per cent of farms raising pig to suffer from losses and debts.
The ministry said the reduction in pig prices continued on the domestic market during the first quarter of this year, though the price began recovering in April.
However, the export market has not yet improved, as the market needs more time to stabilise the price of pigs.
Meanwhile, farmers hope to increase the size of pig herds, leading to a surge in the price of pig varieties.
Therefore, the ministry has recommended that farmers should not increase herds beyond current sizes, and they need to closely follow the markets before deciding to expand production.
Nguyễn Xuân Dương, deputy head of the Animal Husbandry Department under the MARD, said farmers should remain calm. The department will find solutions to stabilise the price of pigs, because if prices continue to increase, there will be risks that pigs from neighbouring countries will be smuggled into Việt Nam, especially from Thailand, where pig prices remain at VNĐ 42,000 per kilo, and China, with prices of VNĐ43,000 per kilo. Besides that, cheap frozen pork from the US and Brazil might then enter the domestic market.
He said reasonable pig prices should hover at VNĐ40,000-45,000 per kilo to ensure sustainable development of the local livestock industry. If the price is higher, it could lead to a risk of market failure and have a negative impact on consumers.
The Tiền Phong (Vanguard) newspaper quoted Dương as saying that if the farmers massively increase the size of pig herds while the price of pig varieties is increasing due to high demand, they need five months of breeding pigs prior to pigs being ready for sale. After five months, however, there are no assurances that pig prices will still be at their highs of VNĐ50,000 per kilo, as at present.
Currently, farmers have not seen profits from today's higher pig prices because they had ceased herd expansion after pig prices fell strongly beginning last year, Dương said.
Meanwhile, the price increase has created profits for large enterprises, because those large enterprises with long term capital reserves could maintain their production of pigs during the difficult period from last year until today, when pig prices dropped sharply resulting in large losses for many farmers.
However, he noted, foreign companies must not manipulate prices and the MARD has asked large companies, such as Dabaco, Masan, and CP, to not increase pig prices to take advantage of market prices. The price of live pigs from CP is VNĐ46,000 per kilo, always lower than the market price, so traders have bought pigs from CP and sold them on the market, where the price is VNĐ49,000 kilo./.
( VNF/VNA )