4/12/2018 3:46:35 PM
Energy saving a blind spot for VN's high-rise buildings
Ninety per cent of high-rise buildings in Vietnam have failed to integrate energy efficiency into their design and operations, causing enormous wastage, especially with the number of such buildings growing by 6–7 per cent a year.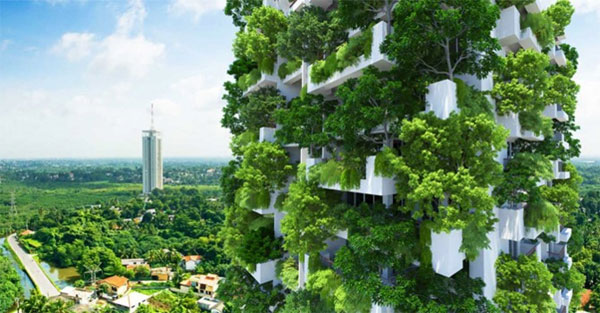 High-rise buildings with green technologies and green spaces need to be encouraged for energy-efficiency. — Photo biz.live.vn
According to a recent study, Vietnam's five biggest cities have 1,500 high-rise buildings with an area of over 2,500sq.m each, while the energy consumption by high-rise building accounts for 35–40 per cent of the country's total.
"Vietnamese cities are facing serious pollution due to transportation, construction and daily activities," Sai Gon Giai Phong (Liberated Sai Gon) newspaper quoted Kazuhiro Matsushita, general director of Panasonic Vietnam, as saying.
"Use of environment-friendly technologies in high-rise buildings is an urgent need to reduce pollution."
Nguyen Cong Thinh, deputy head of the Ministry of Construction's Science, Technology and Environment Department, said: "Industry and construction use the most energy. The more the economy develops, the greater the demand for energy."
But it would not be possible to keep providing energy indefinitely, he warned.
"The urgent task now is calling for better and effective use of energy. Along with energy efficiency during production, energy saving in high-rise buildings like offices, shopping malls, hotels will help reduce the pressure on the power grid."
Experts said besides using better technologies, high-rise buildings should be designed based on natural conditions to get light and fresh air, and all equipment that are not being used should be turned off.
An official from the HCM City Department of Science and Technology said most recent high-rise buildings have not been designed based on Vietnamese conditions, pointing out for example that many of them have glass facades and lack windows that can open to take in fresh air.
"Applying Vietnamese standard QCVN 09:2013/BXD with windows that can open and heatproof materials will help cut energy consumption by 14–36 per cent," Thinh said.
"The Ministry of Construction encourages high-rise buildings to incorporate green technologies in their design."/.
( VNF/VNA )