9/29/2018 9:51:01 PM
Breathe new life to traditional Cheo
A program in Hanoi aims to encourage an appreciation of Vietnam's intangible cultural heritages among the younger generation.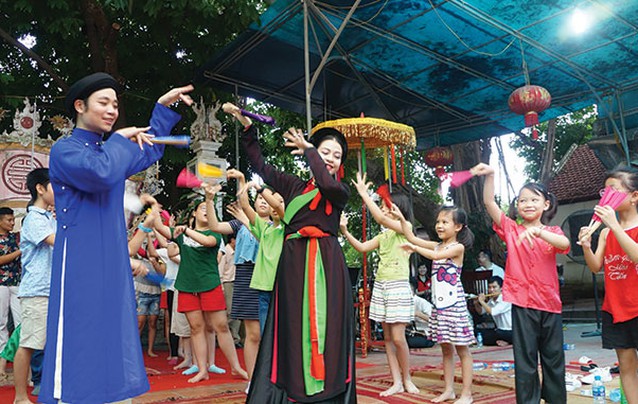 photos: LE DIEM
The program aims at preserving and promoting the country's core values by giving the younger generation and art lovers real experiences in traditional arts, crafts and festivals.
At a typical space in a communal house for "cheo" (Vietnamese opera), a harlequin, a familiar character in the artform, appeared and made people laugh with funny comments and movements. Several kids then came on stage and tried to act like him, looking excited at their first such experience. It was a one-day event on August 26 in Hanoi allowing students aged from 8 to 12 to experience the artform.
After watching part of "Quan Am Thi Kinh", a typical cheo play, the kids, who were divided into groups, also joined a quiz on the origin of cheo and games on guessing cheo gestures representing popular daily activities from the past and also tried cheo singing and dancing.
Having never seen cheo before, one of them, ten-year-old Ngoc Anh, said she enjoyed both the performance of the artists and the singing and dancing with a fan, an important part of the performers. She planned to find out more about it when she got home. Meanwhile, interested in traditional and classic music, 12-year-old Duc Anh read about cheo and had seen "Quan Am Thi Kinh" on video, which made him want to join the day and experience more about the artform.
"The live performance is better than in the video I watched," he said. "I also listen to classical music from other countries and I think cheo is unique, as it shows the culture of Vietnam's villages."
Photo: Nha hat Cheo VN
Guiding the kids, Tuan Kha, an artist from the Hanoi Cheo Theater who has been involved with the artform for more than 30 years, said he was very happy to get the chance to teach the younger generation about one of the country's valuable intangible heritages.
Though he and his colleagues perform regularly, only in recent years have there been events to introduce and teach cheo in schools and universities, in the Cheo 48h - Toi "cheo" ve que huong (48 hours of Cheo - I "row" back to my homeland) program, with "cheo" also meaning "row".
The program was founded by young people to preserve cheo singing, which originated in the 12th century in the north and was popular at traditional village festivals in the Red River Delta.
The day was organized by the program in cooperation with the Hanoi Culture Center under the Hanoi Department of Culture and Sports, as a part of the center's 2018 events in the "Back to the Origin - Experience the Intangible Cultural Heritage of Vietnam" program.
The program aims at preserving and promoting the country's core values by giving the younger generation and art lovers real experiences in traditional arts, crafts and festivals, according to Quoc Chiem, Deputy Director of the department. It also expects to introduce Vietnam's intangible cultural heritage to both local people and tourists, promoting a new tourism product in experiencing traditional culture.
The program's 2018 events focus on traditional singing and dance from the northern region, with two other events also organized in August.
On August 19, a group of students in Hanoi were taken to Trieu Khuc village in Hanoi's Thanh Tri district to experience its well-known dance with cylindrical drums, called "Trong Bong", one of the most ancient dances in the capital.
Born and raised in Hanoi, this was the first time Viet Hung, a member the group, had watched the unique dance performed. The group were amused by the charming moves of the performers, as men played drums hanging around their belly and "women" wore colorful traditional costumes and make-up.
"It was interesting to hear the legend that the dance originated from a victory over invaders in the village of Phung Hung (a military leader who briefly reigned in Vietnam during the 8th century), after which he encouraged the spirit of the army by letting his soldiers dress as women and dance," he said. "I could sense a bit of the atmosphere from the time, when soldiers could relax and have fun after fierce battles, watching 'beautiful ladies' smiling and dancing around."
That made Trieu Khuc's Trong Bong dance different from other villages' dance with the same drums. First performed to commemorate Phung Hung, it continues today in the village's ceremonies, community cultural activities, and spring festivals.
The dance is strong, vibrant, and inspirational, according to Nguyen Thai, Deputy Chairman of the Hanoi Union of Literature and Arts Associations. It has been preserved, as the practice of secretly passing the skill from generation to generation of men in the village continues. For the last ten years, the dance has been taught at the village's Tan Trieu secondary school, to maintain a troupe of performers and preserve local pride.
Earlier, on August 12, veteran singers of "xam" were invited by the center to sing and teach the art to young people, including students, and businesspeople, lecturers and freelancers.
It helped Phuong Thao, a student at the Hanoi Pedagogical University, correct a misconception she'd long held - that xam is performed mostly by blind people.
"That's what I heard when I was small," she said. "I'm sure many others have the same misconception. But I also knew that others sang it too, and they were poor. Singing became their living and was a 'specialty' of the poor."
The 700-year-old artform is a type of narrative singing performed by minstrels and with lyrics based on the tone and intonation of the Vietnamese language. Via song, xam told Phuong Thao and others stories about people, life and society in Vietnam in the past, including during its heyday in the late 19th and early 20th centuries, when it was sang not only in public but also at events such as weddings, funerals, and death anniversaries.
One of the unique features of xam is the powerful voices, Thao believes. It was also a challenge for her when she had the chance to play the instruments, including a monochord, a two-string violin, drums, bamboo tocsins, castanets, and others.
"It's not easy but the artists play really well," she said. "It was fun and something new. I feel fortunate to be chosen to be part of the program, as I saw how beautiful Vietnamese culture is. I will definitely tell my friends about it."
Two more events in the 2018 program are scheduled for the end of September: "ca tru" and "chau van" singing. Ca tru is an ancient genre of chamber music with a complex form of sung poetry using lyrics written in traditional Vietnamese poetic forms. It was listed as a UNESCO Cultural Heritage in 2009.
Chau van, meanwhile, is a type of ritual singing with a highly rhythmic form. It often accompanies "hau dong" (mediumship) during rituals honoring the Mother Goddess or connecting with other gods. The Mother Goddess rituals are among the main religious practices in Vietnam and originated from the country's thousand-year-old matriarchy. It was recognized as a UNESCO Intangible Cultural Heritage in 2016.
Since starting in 2015, "Back to the Origin - Experience the Intangible Cultural Heritage of Vietnam" has given local and international students in Hanoi exposure to the heritage of Hanoi.
More than 100 people were selected from over 1,000 applicants to learn and participate in organizing traditional festivals like the Tay Ho Temple's Festival and the Voi Phuc Temple's Festival, visit trade villages such as Chuong (which makes conical hats) and Xuan La (which makes "to he", a traditional toy for children in Vietnam made from glutinous rice powder in the form of edible figurines such as animals, flowers, and characters from folk stories), and to watch the traditional arts of water puppetry, cheo, and ca tru, etc.
As part of the program, when it finished they had to come up with ideas on preserving and promoting the intangible heritage values in the modern world.
After the success of the first event in 2015, a second took place in 2016, focusing on the five trade villages of Dong Ho (folk paintings), Bat Trang (pottery), Me Tri (green flaky rice), Thach Xa (bamboo dragons), and Dao Thuc (water puppetry).
The center also cooperates in young people's projects on preserving traditional culture, such as Toi xe dich and Cheo 48h - Toi "cheo" ve que huong, to open classes in folk art.
The website www.hanoidep.vn was also launched by the center this year to provide information, images and video clips about Hanoi and cultural events./.
( VNF/The Guide VN )