7/31/2017 12:42:38 PM
Ambassador of Morocco to VN believes in the Kingdom's more prosperous future
On the occasion of the National Day of the Kingdom of Morocco on July 30, let us catch a glimpse of the growth of Morocco nowadays, in an article written by Azzeddine Farhane, Ambassador of His Majesty The King of Morocco to Vietnam.
His Majesty King Mohammed VI (source: The embassy of Morocco in VN)
Morocco's national day is marked on the enthronement date of His Majesty King Mohammed VI on July 30, 1999. It is a celebration steeped in history, which constitutes a unique occasion to renew the profound links of solid loyalty and faithful unity between the Moroccan people and the Throne. This pact has been well preserved in the shared history of the Moroccan people and the Royal Alaouite dynasty for over four centuries.
This year, Morocco celebrates the Sovereign's 18th year of reign, marked by a process of peaceful and evolutionary reforms. His Majesty King Mohammed VI has consolidated and accelerated political, economic and social reforms, launched by his late father, King Hassan II. In this regard, His Majesty continues to be firmly committed to the continuous path of democratization in the Kingdom, noting that Morocco's "strength lies in the democratic system we have opted for as an irreversible choice which, coupled with a proactive, committed diplomacy involving parliament, political parties, trade unions and civil society, will help us in the defense of our just cause." (October 2003).
Political and social reforms: Participative approach and positive interaction
His Majesty has developed dedicated initiatives to promote citizens' participation in politics through human rights, gender equality and equitable human development. Hence, Morocco has held a series of free and fair parliamentary and local elections. The Kingdom is currently implementing a new regionalization process, bringing decision-making closer to local communities.
In the field of human rights promotion and social reforms, the Kingdom's family code has been improved to give women equal standing with men. "The National Human Development Initiative" and "The Equity and Reconciliation Commission" are other milestone achievements in building a sustainable future for Morocco's most disadvantaged communities and including them in the economic and social growth of the Kingdom.
All these far-reaching reforms have been enshrined in the 2011 Constitution, which consecrated the Kingdom's reformist path by establishing a constitutional monarchy with separation of powers, enhanced responsibilities for local and regional governments, and clear support for the multicultural, multi-religious character of Moroccan society.
Economic Development: collaborative approach and inclusive economic strategies
Morocco continues to undergo major economic reforms to reinforce its infrastructure, streamline productivity, foster rural development, provide adequate services and create an investment friendly environment. Morocco, with its strategic geographical location and more than 3,500 km of coastline, has 15 international airports and a network of more than 1,800 kilometers of highly engineered highways, as well as a high-speed train system linking its major cities.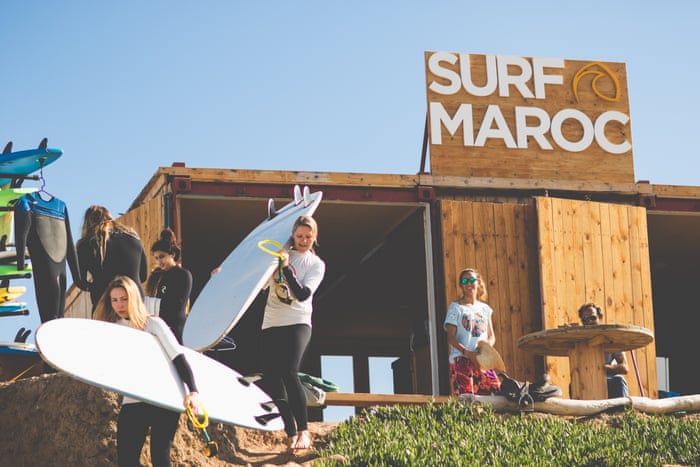 More travelers are flocking to Morocco (source: The Guardians)
Morocco has emerged as a global "green leader" setting an example for other developing countries. By the year 2030, 52 per cent of Morocco's energy will come from non-carbon-based sources. In addition, the large success of COP22, organized last year in Marrakech, honored the Kingdom and fostered the trust and credibility it enjoys internationally, and on the regional level, through the organization of The African Summit for Action, on the sideline of COP22.    
Moroccan Diplomacy: African dimension and win-win partnership
Morocco's commitment to democratic progress and peaceful change has extended beyond its borders. At the diplomatic level, His Majesty King Mohammed VI has sought to strengthen Morocco's historic roots and ties in Africa through a win-win partnership. His Majesty has undertaken more than 51 official visits to 26 African states, during which more than 3,200 bilateral agreements were signed within the framework of promoting "African South-South Cooperation".
Morocco's reintegration into the AU will undoubtedly provide a solid impetus to the work of the organization itself and strong momentum for the already established projects and partnerships launched by the Kingdom and many brotherly African countries. These include the Morocco-Nigeria gas pipeline, the mega-fertilizer plant in Ethiopia and the construction of a new capital city in South Sudan. In addition, Morocco provides academic scholarship schemes and technical and religious training programmes to more than 28 African countries.   
The Kingdom's openness toward new partnerships is also reflected in its commitment to working jointly with ASEAN countries, mainly with Vietnam, reflected through the accession of Morocco to the Treaty of Amity and Cooperation with ASEAN, and the recent signing of a MoU with the Mekong River Commission.
Morocco, under the wise leadership and clear vision of His Majesty the King, looks to build a brighter and more prosperous future, honoring the vibrant legacy of the Kingdom's history and its constant openness to the outside world, which makes Morocco a model and a melting pot of modernity and authenticity./.
( VNF/VNA )