9/27/2017 2:52:34 PM
ADB on Vietnam & sustainable development
(VNF) - Vietnam's economy continues to perform well despite several setbacks, the Asian Development Bank (ADB) said in a new flagship report launched on Sep 26.
Eric Sidgwick, ADB Country Director for Vietnam speaking at the conference (photo: Phi Yen)
According to ADB in its Asian Development Outlook Update (ADOU) 2017 report, as a result of an 8% contraction in mining and oil output in the first half of the year, Vietnam's economy will perform well, at growth rate of 6.5% in 2018.
"Despite the drop in mining and oil output, the country's economy continues to perform well, driven by its twin engines of export-orientated manufacturing and rising domestic consumption", said Eric Sidgwick, ADB Country Director for Viet Nam.
"Manufacturing expanded by 10.5% in the first half of the year as new foreign-invested factories ramped up production, while the services sector continued to pick up steam as a result of rising retail trade, growing bank lending and a 30% jump in tourism arrivals," he added.
Vietnam's economic growth is expected to rise in the second half of the year, buoyed by further increases in foreign direct investment and exports, domestic credit growth, a further recovery in agriculture from the 2016 drought and accelerating disbursements of capital expenditure on national infrastructure programs.
The report stressed that while Vietnam's economy is performing reasonably well against a challenging back-drop, several issues will need to be addressed to ensure growth remains sustainable.
This first challenges relates to the authorities efforts to reduce the fiscal deficit. The ADO Update highlights commendable progress in reducing government expenditure growth which will help to ease public debt pressures.
While recent progress in trimming the budget deficit is commendable, it has also led to a drop in capital spending which if not rebalanced could erode Viet Nam's long-term growth performance. For Viet Nam's fiscal consolidation to be 'growth-friendly' the authorities may usefully focus on adopting additional taxation measures while trimming non-core public expenditures such as administrative expenses which have crowded-out infrastructure in recent years, ADB said.
As revenue growth exceeds expectations, the government's target of trimming the budget deficit to the equivalent of 3.5% of GDP in 2017 and 4.0% in 2018 looks broadly attainable. This will depend, however, on further efforts to enhance revenue collection and stricter control of spending on wages and salaries and other recurrent expenditures.
After 3 years of lower infrastructure spending, redirecting the 2017 budget toward capital outlays should help achieve this badly needed adjustment to public expenditure.
At the same time, the report notes that fiscal deficit reduction has been achieved largely due to tighter control of capital spending while recurrent spending has continued to grow. Correcting this imbalance will be vital for maintaining Viet Nam's long-term growth performance.
The second challenge relates to recent moves to bring down interest rates and raise already strong bank lending growth. While adding to domestic demand, these steps also have the potential to raise inflationary pressures and if not well managed will increase financial sector risks. 
Recent efforts to raise already strong bank lending growth by lowering interest rates to historical lows have the potential to increase financial sector risks, particularly given the large stock of past unresolved bad debts. To ensure these risks are well managed it will be vital to strengthen regulations and supervision on loan quality and to continue the introduction of more stringent, Basel II, regulatory standards over the next 12-18 months.
In terms of trade, the report noted that while export-oriented manufacturing remains a bright spot for Viet Nam's economy, the trade surplus narrowed faster than expected, as surging imports outpaced export growth. In the first 6 months of the year, the trade surplus shrank to equal an estimated 1.5% of GDP from 8.1% in the first half of 2016.
Vietnam's export performance is expected to remain strong with continued support from new foreign-invested factories and an upturn in commodity prices. A free trade agreement with the European Union that will come into effect in January 2018 should boost export prospects.
Meanwhile, the economy's heavy reliance on imported capital goods and intermediate inputs for manufactures will keep imports buoyant. As a result, the current account surplus is expected to shrink to the equivalent of 1.0% of GDP in 2017 before expanding again to 2.0% in 2018. Both of these projections are lower than the April forecasts.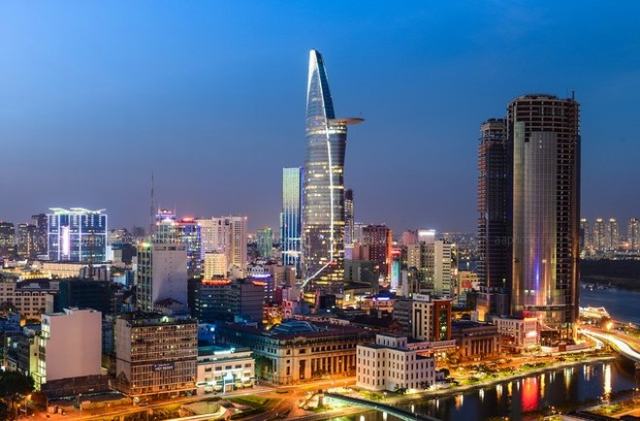 Vietnam's economic growth is expected to rise in the second half of the year (illustrative photo: UEF)
 "Though the country's strong trade performance is expected to continue, it may be exposed to increased risks if a slowdown in major industrial economies occurs or from unexpectedly low growth in the People's Republic of China, an increasingly important trading partner," added Sidgwick./.
About the Asian Development Outlook Update
The Asian Development Outlook Update is a flagship ADB publication, which provides mid-year assessment of economic developments in Asia and the Pacific and updates medium-term macroeconomic projections for the region. The theme of this year's ADOU is Sustaining Development through Public Private Partnerships.            
ADB, based in Manila, is dedicated to reducing poverty in Asia and the Pacific through inclusive economic growth, environmentally sustainable growth, and regional integration.
Established in 1966, ADB is celebrating 50 years of development partnership in the region. It is owned by 67 members—48 from the region. In 2016, ADB assistance totaled $31.7 billion, including $14 billion in co-financing.
( VNF )