4/25/2018 11:26:17 AM
A walk back to history in Hoa Lu, the capital of Dai Co Viet
(VNF) – Hoa Lu citadel was an important part of Dai Co Viet history, as the capital of the first feudal independent nation in the country's history.
For several thousand years, Vietnamese heroic country has undergone persistent battles to eradicate foreign invaders, domestic rebellions to protect its independence and peace.
The 10th century marked a significant chapter in the country's history, when Vietnamese people under the leadership of Dinh Bo Linh, rose up in arms to quell revolts conducted by twelve war lords, and unified the nation.
King Dinh Tien Hoang's temple in Hoa Lu relic complex (source: VNE)
Dinh Bo Linh later ascended to the emperor throne and founded the Dai Co Viet State (the Great Viet Land) as the first feudal independent nation in the country's history.
In over four decades (from 968 to 1010), Hoa Lu was the capital of Dai Co Viet, before King Ly Cong Uan relocated the capital to Thang Long. Since then, six kings had succeeded each other from 968 to 1009 in Hoa Lu.
Though being the capital of the country for a short period of time, compared to the nation's history of thousands of years, the ancient capital marks a splendid historical moment. During the Dinh and Le dynasties, feudal Viet Nam was as powerful, and Vietnamese people completely defeated an invasion by the Chinese Song dynasty.
During 42 years of existence (968-1010), Hoa Lu Capital was a political and cultural center of an independent and self-control state in the 10th century. This is a place to create position and force for the country to transit to a bright development under the Ly – Tran reigns in the next centuries.
Hoa Lu (literally means "Flowers of Reeds")  located in Ninh Binh province in the North of Vietnam, is surrounded by mountains of limestone as strong as a fortress wall. It was probably the reason that the Dinh (968-980), Le (980-1009) and Ly dynasties 1010-1225 decided to choose Ninh Binh as their capitals for Dai Co Viet, after gaining back the independence from foreign invaders.
The imperial palace was three meters underground. The perimeter was built based on natural advantages: the nearby mountains provide a good background, the deep valley act as a "basement", and the rivers supplied water and were a hazard for any enemy to cross. Nowadays, tourists can also see old items used by the royal family in ancient times.
Numerous traces of history can be found everywhere in the ancient capital of Hoa Lu, since the citadel still holds the remnants of wars against foreign invaders and a multitude of temples, shrines, and pagodas.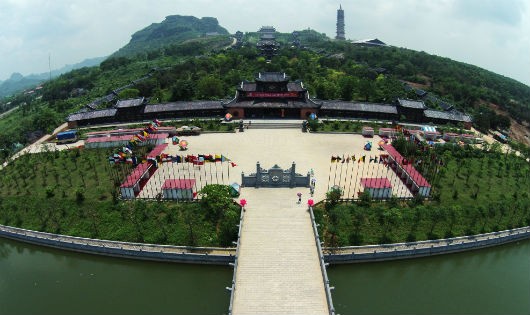 Hoa Lu located in Ninh Binh province in the North of Vietnam, is surrounded by mountains of limestone as strong as a fortress wall. (source: PLO)
Based on the natural topography of Hoa Lu, the Dinh and Le dynasties, had built 10 sections of wall connected to the limestone mountains and form Hoa Lu wall. Archaeological excavations proved that during its heyday, Hoa Lu was a magnificent royal citadel covering 300ha. 
Hoa Lu capital was surrounded and protected by arc limestone mountains.  Gaps between the mountain sides were closed by bricks and embanked 8-10m. At present, many sections of wall still exist.
In addition, endless mountains and the Hoang Long River, which surrounded the capital city, protected the city as well as a military fortress.
After King Ly Thai To moved the capital from Hoa Lu to Thang Long, local people built temples for the former kings Dinh Tien Hoang and Le Dai Hanh to express gratefulness to them. The two temples are only 500m apart.
Today, Hoa Lu Ancient Citadel has become a popular destination for tourists with a host of historical and cultural attractions, such as the temple of King Dinh Tien Hoang (Dinh Bo Linh), (founder of the first centralised feudal State in Viet Nam, Dai Co Viet), temple of King Le Dai Hanh, founder of the Tien Le dynasty, King Le Dai Hanh (Le Hoan), Ngan Xuyen Pagoda (near the foot of Ma Yen Mountain), Nhat Tru Pagoda, among others.
Visitors to Hoa Lu ancient capital can also take a tour to explore Trang An Eco-Tourism Complex, a World Culture and Nature Heritage by UNESCO.
Trang An Complex (source: Zing)
In the past, due to its location, Trang An Caves was a Southern defensive system of Hoa Lu Citadel (called South Citadel).
Nowadays, it has become a complex beauty - landscapes called as an 'outdoor geological museum' with numerous cone-shaped rock towers, marvellous caves with fascinating carbonate stalactites, dense rain forest with a wide range of faunna and flora.
For those who keen on gaining deeper insights of Hoa Lu's culture and history can also attend the Hoa Lu Festival (also known as the Truong Yen festival) last for three days, from the 10th day of the third lunar month.
The festival includes two parts: worshiping with a water procession at the Truong Yen water station on the Hoang Long River and worshipping at the two temples of Emperor Dinh and Emperor Le. Entertainment includes folk music, a Chinese Han script writing competition, chess, dragon dances, a beauty contest for Hoa Lu women, and folk games. It brings back memories of olden times and helps young people get to know more about the traditions of their ancestors./.
( Phi Yen )