So many expats and tourists visit Vietnam and leave with happy memories and a cell phone full of photographs recording their time spent here. There are no doubt pictures of them in Sa Pa, Ninh Binh and Ha Long Bay. There are surely lasting images of the amazing scenery Vietnam has to offer and plenty of photographs of food, friends and fun times.
But that's about all they have: A social media slideshow depicting the time they "did Việt Nam".
One visitor saw things differently.
Junau Boucard came to  Vietnam  in March as part of a student trip to study abroad with the UCONN School of Business at the University of Connecticut.
Junau is a second-year MBA student and while he did the usual sight-seeing trip most visitors embark on, he also witnessed a different side to the country – a side he felt compelled to change.
He was so moved by sight of children pounding the streets selling cheap goods, many of whom have little or no education, he decided to do something about it.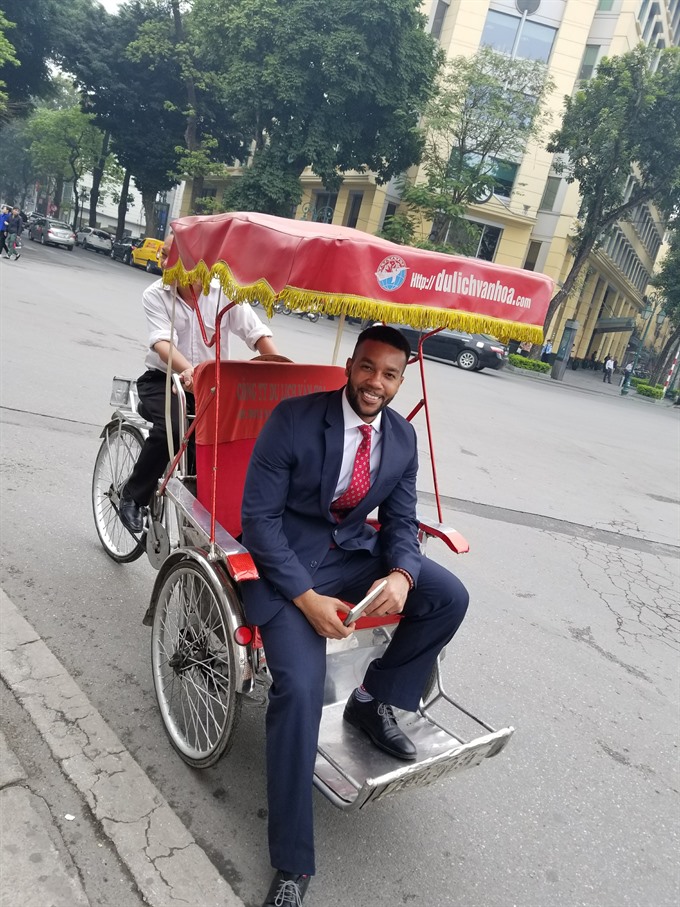 Moving story: Junau was so moved by what he experienced in Vietnam that he decided to do something about it. — Courtesy Photo of UCONN School of Business.
Born in Haiti, a Caribbean country also plagued with child poverty issues, seeing the kids of Vietnam really hit home. Now the 31-year-old run the New York Marathon on Nov 4 to raise awareness, and money, to help banish child poverty in Vietnam.
"Earlier this year I got a chance to visit Vietnam as part of a study abroad trip with UCONN School of Business.
"While in Vietnam I saw a lot of kids living in the streets, living in poverty. Kids that are four, five years old selling stuff in the streets," said Junau.
"I think that had a place in my heart because coming from Haiti and being able to really understand and connect with those kids in Vietnam.
"I wanted to do something that would really help out and leave my mark on the world and make it a better place because part of my MBA programme is after we learn, we earn and we give back.
"I think all my training is really going to pay off and I'm ready to raise awareness and make a difference in the lives of a few kids in Vietnam."
Junau learned about the Blue Dragon Children's Foundation in Hanoi, and the work the organisation does to help rescue children from the streets, give them a better education and in some cases, reunite them with their families.
"After visiting Vietnam, I learned about Blue Dragon which is a phenomenal charity that helps rescue young kids from crisis and ultimately help end human trafficking which is a problem in South East Asia.
"So I wanted to dedicate my marathon to Blue Dragon."
He added: "I think on Sunday, I will leave my mark by raising awareness for Blue Dragon, a wonderful organisation, and hopefully impact on the lives of the kids in Vietnam."
He feels that although often children are born into poverty, and have few choices to make better lives for themselves, the world is evolving at such a fast pace, opportunities should be more available.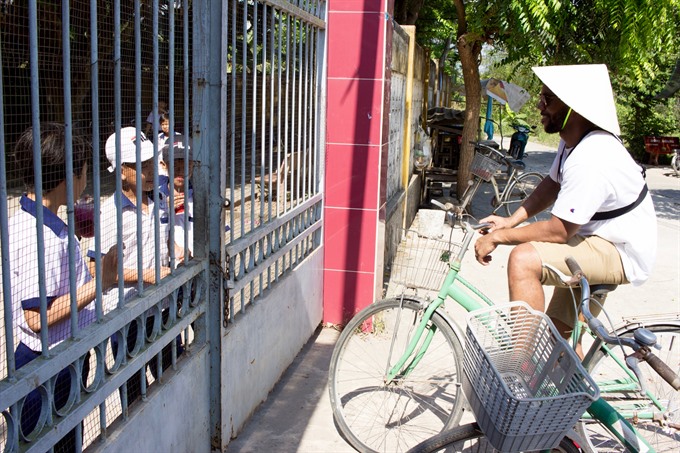 Man on a mission: MBA student Junau Boucard has put the wheels in motion to help children in need here in Việt Nam. — Courtesy photo of Junau Boucard
"I think the world is changing," said Junau. "We should look at different economies and Vietnam has an almost 8 per cent growth rate which I learned about while I did my study abroad trip.
"The economy is rapidly changing and I think times are evolving.
"I think by allowing kids to really thrive, which is one of my passions, raising awareness and getting them to see there are different opportunities out there.
"When I got the chance to run and get in the marathon I wanted to make it meaningful and try to help and leave my impact in the world."
Junau wants to visit here again in the future.
And he hopes the next time he sets foot on Vietnamese soil there may be a change made possible through his hard work and efforts. A small change maybe, but a change surely for the better./.